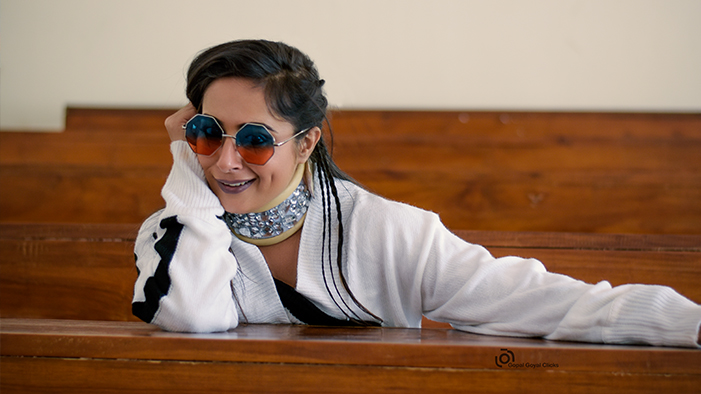 But this amazing gal, who has graced the cover of FITNESS GURU, and is also an actress and ROADIES WINNER, just wont give up.
She decided to make a comeback, and has made the most of this uneventful event in her life and initiated a movement called "COME BACK WITH SHWETA", that will motivate millions of people to come back and not give up.
Injuries and pain are not alien to fitness professionals. Most of us struggle from such things, minor and major, which many a times prove to be hinderances and obstacles in our progress, and we tend to give up, some physically, some mentally. Yes, we feel bad, shattered and broken but we don't want to give up. Still many of such people are unable to find positivity in this and enter a sad and depressing phase of their lives, which stays even after the injury has gone.
RECOVERY takes a lot of time, and generally in such a phase either one gets negative, or one diverts and deviates from the fitness goals.
Most of the athletes are consistent with their workouts and also focus on the fitness goals, creating parameters for success and also setting higher fitness goals. Whether its in calesthenics, lifting a higher weight category, aiming for a different level of physique and what not, the journey is never ending and much rewarding. If no one else , the athlete community can relate to it a lot.
Imagine a day you are doing a deadlift of 150 kgs , and becoming a human flag, and the next day you are told that you cant lift even 5 kgs? Nothing can be more painful and hurting. This brave girl went through something major, that could have been a setback to anyone's progress, as she was doing fantabulously well and was at her peak of Fitness. Yet, she survived the injury well, and has started a crusade of sorts- to motivate millions who go through such but are either unable to share, or give up too soon.
COME BACK WITH SHWETA is not merely an FB page, or a portal, but a movement !!
Shweta shares her updates about her recovery , and not only about the slow progress physically, but how she's dealing with it mentally too.
Her posts and videos on social media are no less than inspiring,and shes putting up a really brave front! GAL, we appreciate you,and you have all our love and support.
We request and encourage all readers to share their journeys and join her in this.
Getting ready for a professional photoshoot, with the NECK SUPPORT BRACE, which she beautifully highlighted with a sequins' band and turned that into a fashion statement as well, is no mean feat.And shes done way beyond that....READ ON .
In a candid talk with JINNIE GOGIA CHUGH.
IMPACT OF THE INJURY-NOT MERELY PHYSICAL
I have always looked forward to different opportunities and experiences in life, and I happened to visit the trampoline park in surat. On 6th of September I met with serious accident there, because of some safety loopholes. I could never imagine that I will get injured at such a place where there is supposedly a lot of safety. Now we may call it bad luck, but the fact is that if I would have got injured because of my flaws would have accepted, but till date I haven't been able to accept that it has happened to me ... !!Bizarre as it may sound, it has impacted my career, my life completely. I performed my calisthenics activities there, I did my human flag ,which was a progress of an years hard work That time I was at my peak and I had so many plans for the year to come. But as its said- Life happens , and so it did.
In a second, I met with a serious accident where I almost broke my neck. I could have just died there, and the doctors said that I could have been paralyzed, and even my limbs may not work. It was tough, rather very tough, but I AM A SURVIVOR. Within 24 hours I got operated and my neck bone got fixed and for 3 months I was asked to wear this neck brace.
All this caused a major setback not only physically but professionally too. My projects for PUNJABI MUSIC VIDEOS, MY YOUTUBE CHANNEL, and whole lot of opportunities were ready and little did I know what was in store for me.
All seemed to be lost....but what I'm left with is LIFE!! YES, and I'm extremely grateful about it.
I was on bed rest for 2 months straight but I had to keep this neck brace for 3 months an I'm grateful that I have such a wonderful family that took care of me a lot. My parents and my brothers and friends and well wishers have taken so much care of me, that I feel overwhelmed to have such a caring family.
THE MOMENTS THAT BREAK YOU ARE THE MOMENTS THAT MAKE YOU!! Physically it troubles you, mentally you get stronger.
It is only under such a calamity that you get to know who are your real comrades. This has been one of the biggest lessons for me, wherein I realized who my true mates and well wishers are.
This I have experienced even professionally. Many collaborations and work assignments have been called off, and many more things got shelved. And if this was not enough, the attitude of people has changed phenomenally, simply because Im not in the best of my health.
Mentally this has been very tedious for me. I feel insecure and so much vulnerable.
Negativity is standing right outside my door but guess what I am just not letting it get in.
It's getting harder
It's getting tougher
than ever.
Yet, I WILL SURVIVE!
THE EMOTIONAL IMPACT
Can you imagine a super active girl who is always busy with the gym calisthenics,non stop practice, dance shuffling is suddenly in bed ? Yes, it can happen with anyone but I wish to share what I'm going through .I will make the most of it and work on different skills, but it's a long journey ahead.
This injury is bad,it's a major one, and a very crucial one too. The doctors also say that it's going to be very difficult for me to come back to the fitness regimen, and also to be very honest they were not even positive to allow me to restart. ,However I was very keen and determined that I will not let this break me, so reluctantly they have agreed but with extreme care and very slow progress. Also some of my favourite activities such as contact sports- head stand etc, I guess I wont be able to do ever.
There have been very few people who have come back after this next surgery because it's very sensitive and everything is connected to your neck. My surgery was C5C6C7 and there have been 3 major muscle tear on my upper pecs, my lats an my triceps are very much in constant pain .
But me, Shweta, wants do everything again, I have actually started going to gym I am starting exercises without weights. It may be very slow, but I will keep trying. At present I don't have any strength, I am unable to do even body weight exercises -push ups and pull ups and even free squats. Inside its killing me, yet i'll keep trying each day.
My re-joining the gym was a very emotional moment for me, I can barely lift a 1 KG dumbbell, and it kills me every minute but im grateful that I'm alive.
MOTIVATION TO COME BACK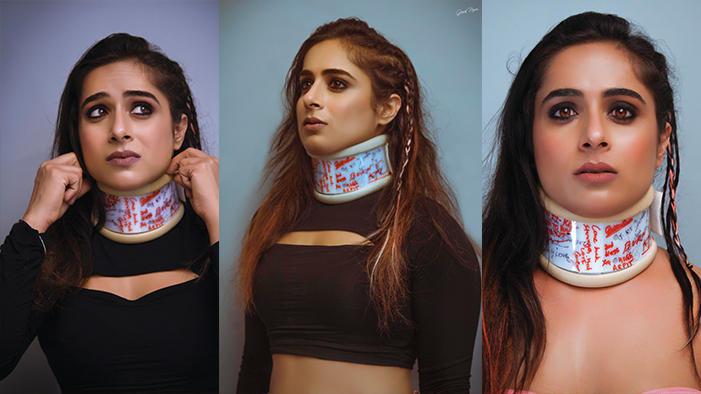 My motivation is the mirror ! I am self motivated, and I just cannot see myself like this. I don't wish to be a recipient of pity and sympathy. Yes, the well wishers are good, but not the poor me.
I'm someone who is super active who wants to do a lot of activities. I just cannot change it. it's me and I have to get back in myself and that's giving me the motivation! Another thing which motivates me is a NEW LIFE.
Many people who suffer such injury they either die or become paralysed for life. I'm lucky and grateful that I survived, and God has given me another life. I will make the most of it. I have to fulfil my dreams, and I'm a go getter, and I will do it.
Come back with Shweta
Social media has a phenomenal reach and I wanted to make my journey a motivation, hence, COME BACK WITH SHWETA.
I am on 0 right now and I am starting my journey again, rather I am restarting everything. This journey is going to be amazing and I would really love people to join me in this. I have understood that pain and any calamity can break you, it could be a financial crisis, a divorce, a surgery, or anything. Yes, the pain is grave but there' always a comeback.
I have started this campaign, and I would want them to join me and participate too. I would request you to watch my progress and share yours. Yes it's very difficult to come back, so probably this platform will help everyone to motivate each other to come back. When I can start from zero to where I was, everyone can. It is a free group and everyone is welcome to post their stories. Every story is motivating, you never know who you're going to motivate so it's good platform to share. We all need a starting point, a trigger, that one step, and we can definitely come back. We all will make a comeback together and our little progress each day will motivate each other.I thought of utilising my time and making it into a journey.
It's not a campaign it's a movement #comebackwithshweta !
I initially thought it's camping but it looks like it's a movement. This is a free group and there is no restriction of age, gender, profession. We all see people dealing with set backs, or stuck up .But for whatever reason one can restart their journey, and can be motivated to join and also see how people are dealing with different kinds of setbacks. One may come across a similar story or someone else going through the same and might be of help unknowingly to others.
This is a personal group, as everyone understands that the recovery period is very difficult and one tends to get into depression any moment, but when you are a part of any such group, and are actively involved, you will not feel lonely or depressed.
This can also be a knowledge sharing platform, and motivational too. It excites me to share my story and when I read posts by other people.
I'm giving hope too many people out there !
It's you who has to decide if you want to come back ! If I'm in any way motivating you, I'm really happy to do that but trust me I'm doing it for myself and if you are not doing it then I'm wondering why are you not doing it? You have just one life,what are you waiting for.
I personally feel i'm not doing anything extraordinary., but just giving my everything.
I decorated my neck brace, with all those shiny diamond stores decorative stuff. Supposedly wearing it was killing, but I purposely made it shiny and sparkling, as I feel good wearing it. I still want to shine, no matter how bad pain I am in I want to shine I always say this this is something which I wrote "Broken pieces of something which shines, shine. "
We Wish you all the SUCCESS!
The Shweta Mehta