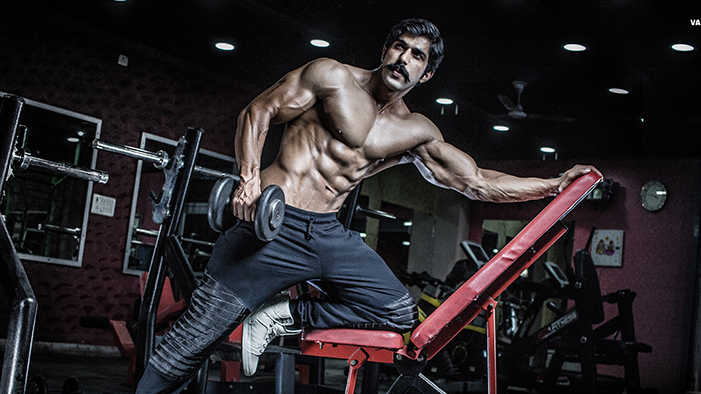 Yes, this man dawns many hats and the hat is full of feathers, the feathers of achievements and accolades that outshine everything around. Yet is his innate desire to excel and more than that is the zeal to motivate people and do some very constructive work for the
FITNESS INDUSTRY
. The man -
RUBAL DHANKAR
, has overcome many a obstacles, and has had injuries and calamities that could shake any one, yet this man stood tall and overcame everything with elan.
From changing the perception of the INDIAN COP on MTV ROADIES, to attaining the bestest of physique and conquer the world of bodybuilding, compete and win, he has done it all.
With a following of millions, he regularly posts updates for his fans, where he not only talks of various workouts and diets, but also shares his experiences and learnings that would guide the many enthusiast who wish to make a career in this industry.
We are indeed proud to feature
1. How did it all begin? Please talk about your journey from a cop to the finest bodybuilder in the country ?
Fitness was in my genes. I am very inspired by my father, who was very particular regarding workout. He used to encourage me and educate me the importance of fitness. He inculcated the habit in me to eat healthy and nutritious food. When I joined Police Force I became aware that I should have a healthy and fit physique. Grossly Obese and unhealthy figure gives a very bad impression being a Police Officer. So I came into the world of Fitness.
2. You have been an inspiration for millions. Who is your INSPIRATION ?
My father and LIFE.
3. You have faced major obstacles in life and the medical injuries and setbacks would have put down anyone. Please tell us about them ?
Yes, I faced major obstacles and injuries, and was even tested for a doubtful cancer of the jaws and had to undergo major surgeries.This was vert startling and had shaken my confidence and hope in life. I was broken and demotivated. There was a drastic change in my healthy and fit physique after I had undergone a surgery. It was extremely difficult for me to cope up in my normal routine. People mocked at me. I was losing hope and I thought it was an end of the world. At this point of time, my younger brother came as a pillar of support. He inspired me to move and restart my life with full enthusiasm and determination.
4. How did you overcome those obstacles and bounce back in such a wonderful way ?
When everywhere I was surrounded with cloud of darkness and I was losing hope my younger brother came as a silver lining in the cloud. He motivated me to move on, shed the past and move ahead with an optimistic attitude. I shall always be grateful to him for life.
5 .What are the struggles that you faced and what kept you going ?
Unhealthy physique, monetary issues were the two major issues in my life. At the age of 20, I aspired to be something else but to support my family I joined government servic. In my heart was the burning desire to pursue my dreams and accomplish my task with full passion and dedication. By Gods grace I am now pursuing it.
6. Who has been your core strength and support in this journey ?
My younger brother and my better half both have been a pillar of support and motivated me to move ahead and pursue my dreams.
7. How was your experience with MTV ROADIES ?
The overall experience has been amazing and it gave me instant recognition and stardom. Also, this was the turning point of my life. I also made sure to clear and project the image of a policeman in the right way through this medium, and I have been successful in that too. I am and shall be indebted to MTV always.
8. RUBAL -THE ACE BODYBUILDER COP is today a name to reckon with !! Please elucidate- the beginning, the journey ,and now ?
I always aimed to be a body builder .Responsibility of family and financial issues compelled me to take government job at a young age. I am determined to fulfill my dreams. I am working very hard and shall be competing at the OLYMPIA in November 2019.
9. You have major following on your social media handles. In such a short span of tim, how did your following increase phenomenally? And what do you think made you so popular ?
REALITY, TRUTH AND TRANSPARENCY have been my mantras for social media. I wanted to share my knowledge and experience with the people and wanted to inspire them by my story. To become famous on social media I have followed the path of truth. I am a crystal clear person and I always prefer to remain grounded and down to earth. Honesty and dedication are my tools. People will definitely love you if you are humble and If they can relate to you.This has been a major reason for my popularity.
10. Have you been inclined towards sports since your childhood ?
Yes of course. I was in the volley ball team in school and college. I actively participated in school and college volley ball matches.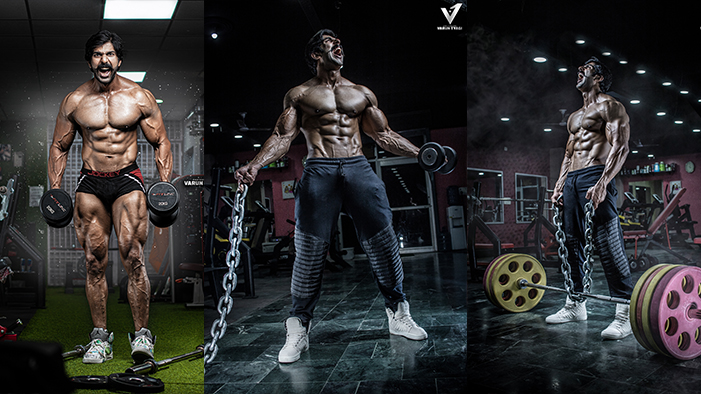 11. You are not only an inspiration for the youth, but your humility has made you a star in the eyes of millions. How does it feel ?
I really feel delighted and overwhelmed that people consider me as an inspiration. From the core of my heart I am grateful to God that I have got immense love and respect from people and I wish to reciprocate it by being humble and sharing all my knowledge and experience. I will never lose my humility and I don't approve of attitude and arrogance.
Despite all my obstacles, if I have reached here, its because of grace of God, support of my family and love of my fans. I shall always remember this.
12. What is the secret of your immense popularity, not only in BODYBUILDING but all over the India as a motivator and influencer ?
I can only say that people will love you if you are honest, humble and if they can relate to you. I am very passionate about bodybuilding, and at the same time I am very dedicated to my job. Probably this is one of the reasons that I get all this adulation. I teach others with dedication and passion. I am happy that people receive my message with a positive attitude. Not only in body building but also in my daily routine I converse with people through social media and share about my life, my job and treat them all as my family.
13. Please tell us about your family ?
We are a joint family. My family compromises of My parents, my wife, my two children one son one daughter, My sibling- my younger brother and his better half.
14. Your personal strengths ?
My life partner, my wife Deepa.
15. Your likes and dislikes when it comes to various diets ?
I believe and give prominence to healthy food. I strongly feel that work out is very necessary in the field of fitness. I occasionally miss having food with my family. My aim is to lead a healthy life style and having a balanced diet helps to maintain it.
16. How do you define FITNESS and the role of right nutrition in the fitness goals of an individual ?
Fitness and Body building are different topics.
Fitness attributes on remaining active both physically and mentally and we should be capable of accomplishing every task assigned to us like running playing games, being on our toes.
Our life style should be maintained by eating healthy nutritious food which is a key to good health.
17. The youth is inclined towards bodybuilding and FITNESS, but seek an easy way out. Your advice to such people ?
In the field of body building one needs a lot of patienc.There is no room for anxiety in the field of body building. Determination, concentration, hard work, patience, dedication are the necessary tools in the field of body building. It takes years of hard work to be steady and maintain in the field of
body building.
An easy path will not lead to anywhere and you will be compromising on your health forever. So be hardworking and get success.
18. In your Youtube videos, you advice people with miminum resources to have a good physique through diet. Do you think that works and is that possible ?
I have myself grown up with limited resources, but my dreams were not limited.I have learnt the hard way as to how one can achieve fitness goals without the supplements. Ofcourse it requires a lot of hardwork, and a very good diet. I love to share this knowledge and also my struggle about how could I achieve this and hence I share it also.
Whatever I have learnt in my life I give the best to others. I want others to gain knowledge and take advantage of it.
19. All your social media handles and speeches etc are very inspiring and its apparent that you are using these as a platform to giving it back to the society, is this your contribution to the fitness industry? Any aim behind this Nobel gesture ?
My aim was to share my experience and spread knowledge among people. Even if 100 people are benefitted by my experience my mission will be successful. Slowly steadily people are following my path.
20. Who have been instrumental in this tedious yet rewarding journey of yours ? Would you like to acknowledge a few ?
My family has always been my pillar of strength my wonderful parents, my sibling and my motivator Vivek, my life Deepanjali. My best friends who have been my mentor Vikas and his wife Nish. Other friends Ankush Goel and Amit Khatri
21. Please share your FITNESS ROUTINE ?
Without fail I follow my daily routine of exercise.
Two hours of workout. One hour weight training and one cardio.
22. Your message to the readers of FITNESSGURU Magazine.
FitnessGuru is a very inspirational magazine. It motivates us to work hard, take risk, accomplish task with dedication. This is a magazine that inspires others to be fit and follow their passion. I'm grateful to the team for featuring me and wish them all the best.