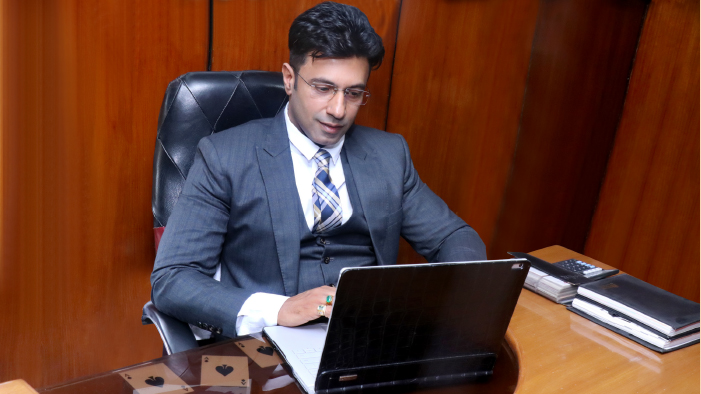 1. A lawyer and a powerlifting gold medalist. Two extremes. How did you manage this, and have you always been interested in sports since your childhood ?
I have been a sportsman since my childhood. I was declared the best athlete of my school at the annual sports meet in 1987. I used to play for the school hockey team. In college the culture of sports was hardly there. WWE was a rage in the 1990's and this is when I started going to the gym to get those sculpted muscles.I got interested in professional competing and started powerlifting in 2016.
2. Were you inclined towards taking up sports professionally? What made you take a decision to compete at the international platform ?
I had no intention to become a sports professional. I started powerlifting without compromising on my work routines that are long till date. It was an impromptu decision, but yes, I prepared well for it, and achieved at the international platform.
3. Please let us know about your profession and professional achievements as a lawyer ?
As a lawyer I have been actively involved on the corporate and Intellectual property. I have worked for all Brands from United Spirits Limited to Boeing and for most consulting firms from Deloitte to Latham & Watkins.
4. You have been a very successful lawyer and a businessman since many years, how did you enter into the FITNESS BUSINESS ?
After winning Gold medal for the country at the common wealth championship I got the opportunity to become the president of the Indian Powerlifting Federation. This was my first introduction to the Fitness Industry and with my understanding of the dynamics of a business, I ventured into this field with a unique concept.
I also partnered with Ms JINNIE GOGIA CHUGH, a renowned name in Fitness , and ,when we saw how to use our skill set to the best, I used my entrepreneurial skills to put all the ideas into reality, and thus was the beginning of FINERGY SERVE.
5. FINERGY SERVE – a unique concept. The reason, and motivation behind this initiative ? With an in-depth understanding of the business and the dynamics of the market, how did you step into the fitness industry, initially as an athlete, to the president of a national federation, and now, a unique business handle ?
Finergy is a combination of Fitness and Energy. During my exposure to the sport I saw that there was huge potential and a big void in the fitness Industry. Thus I established Finergy Serve with Mrs. Jinnie Gogia Chugh to bridge the gap and fill the void.
6. FINERGY SERVE – your venture, has got some prestigious projects in a short span of time. What differentiates you in this field ?
The professional and systematic approach separates us from our competitors. We have hands-on experience and have actually passed through the grind of what we preach.
7. The different verticals of FINERGY SERVE address very different aspects of the industry. What made you feel that there was a need for this in the Fitness Industry ?
In India the fitness Industry is in a very nascent stage. The organizational part in the industry is really weak, and has to be handled in a professional way with panache. Be it a championship, or a press conference, this should be done as its dealt with at the interntional level,with proper coordination and finesse. This also holds true for a career in the FITNESS INDUSTRY. Most people have been copying international models that don't really apply with the Indian dynamics. They read articles and try and apply them without realizing that everything that is written may be motivated and may not apply to their scenario. This is where Finergy comes in. We have international exposure and a vision for overall wellness with practical things that have worked for us personally. Finergy Serve offers unique and out of the box solutions that is the need of the hour.
8. As an independent entity, FINERGY SERVE does not endorse any particular brand or federation, and is open to all, for work and business. Pls comment ?
Finergy is a service Model. Though I am closely associated with various associations I have purposely decided to keep the company neutral. Our services are for all sports bodies and general wellness.
9. Is there a need in the market for an independent agency to address the issues that Finergy serve talks about ?
Globally we are moving toward a market place model. Finergy is a marketplace for fitness and is backed by professionals who have hands-on experience in both fitness and real life.
10. The right consultancy in Fitness OCCUPATION can make a world of difference to one's life. How do you address this ?
When one decides to take up a profession, and make a career in any industry, one must have clarity about the path, and also some knowledge about the pros and cons of that field. You can be a trainer/athlete/fitness educator/nutritionist, but you must have clarity about the path that will take, and what will be the monetary return as well as the earning opportunities. Apparently what appears to be rosy, is not as smooth as it is in reality.
Hence, FITNESS OCCUPATIONAL CONSULTANCY is very important.
11. How do you see the growth in the fitness industry ?
I see exponential growth in the fitness industry. We are entering an era where everyone wants to be fit and look good. Additionally, rising medical costs are making fitness a necessity rather than a recreation.
12. Despite being a lawyer, you are well known for your Fitness, and even headed a federation. It requires dedication and discipline. What is your basic fitness mantra ?
My mantra is to be systematic and to be as disciplined as I can. My work involves frequent travel and if I leave my discipline fitness will be a history. I workout as regularly as I can and try and get up at the same time everyday.
Have you seen a lawyer with six packs ? Astonishing as it may sound, we have Mohit Suri, to surprise us again,and attain this all naturally.
WE WILL SOON DO A STORY ON HIS FITNESS REGIMEN AND HIS DIET AND NUTRITION.. THE QUESTIONS HERE HAVE BEEN ASKED PERTAINING TO HIS BUSINESS.