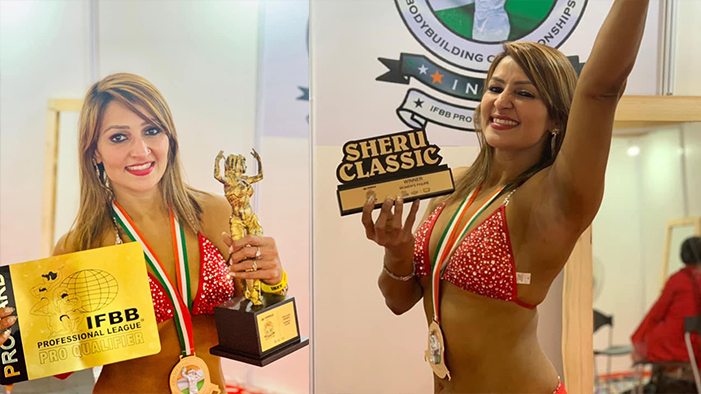 On joining the gym, I lost 14 kgs in 6 months, where I was very regular and disciplined. I was inclined towards fitness and also did yoga at home. I had to manage my household and my daughter was only 3 years old .However, I wasn't dissuaded and managed everything well, and continued with my fitness regime. I had my second child in 2011, and had again gained a lot of weight. I started working out again and lost a considerable weight in a short span of time. My fitness level was enhancing and I used to often share my workouts on social media .I was then suggested by one of my friends to compete in championships. Till then I had no clue about any such championships ,but I had a keen interest ,hence I decided to compete.
Coming from a typical Baniya family, where even wearing a pair of Jeans is considered a big and bold step, entering the line of professional competing where the costume is a BIKINI was a major hitch. I somehow gathered the conviction and discussed with my husband,who initially denied, but later supported and accepted this too.I thus started my prep for JERAI CLASSIC 2018.
2. Your fitness journey Began in 2017 , and today you are a PRO CARD WINNER, with so many amazing achievements. Pls elaborate ?
My bodybuilding journey started from 2017, and since then I have played 12 competition and I have won total 8 .
•
Sheru classic (2018)women figure silver medal
•
Miss Delhi 2018 second place
•
Miss Delhi 2018 third place
•
Miss north India 2018 first place
•
Powerlifting 2018, 3rd place (fitlife)
•
Powerlifting 2018, 2nd place ( fitlife)
3. Since how long have you been inclined towards fitness ?
10 years
4. Such a huge change in life, how does it feel ?
It feels very good and Im very proud of the fact that my journey has been from a small town girl to 'Pro card holder'.
5. When did you start competing professionally ?
I started competing professionally in 2018.
6. Who guided/motivated you to do so ?
My one and only best friend, and my trainer guided me .
7. What were the challenges you faced, and how did you overcome and face them ?
Indeed, it was a big challenge for me to wear a bikini and walk on the ramp and posing infront of public. But I have always been a very active and outgoing person, and was taking choreography classes too. Hence, there was never a stage fright. Yes, I did have my apprehensions but I always feel confident when I'm on stage !Somewhere, I want to prove it to myself that "ek ladki ya aurat ko wo sab kuch karne ka hakk hai jo wo chahti hai"- A WOMAN HAS EVERY RIGHT TO DO WHATEVER SHE WISHES TO. I had to face my realtives and the society who had raised many questions, but my victory said it all.
8. From a home maker-to a teacher, than a choreographer and then a FITNESS CELEBRITY was the change easily acceptable ?
From the very beginning I have always been doing something, and even pursued my hobby professionally. I have had experience as a teacher,Choreographer and now a trainer.
9. Who is your trainer and under whom did you compete for the Pro Card ?
My trainer Mr Nikesh Gautam and my best friend.
10. How is your experience as a trainer ? What is your USP ?
I love to train people and I customize the workout based on individual needs. Its a very good experience.
11. Please tell us about your education and professional life ?
B.Com, B.Ed and a certification as a personal trainer.
12. What are the struggles that you faced, and what kept you going ?
Yes, I had to face struggle and had to continue with workout along with taking care of household, managing the kids etc. But I had so much of passion and wanted to give my best, so I made sure to devote atleast 3 hours to my training. There were days that were extremely tiring, and I would be left with no energy to even get up, but I'm self motivated and wanted to follow my passion.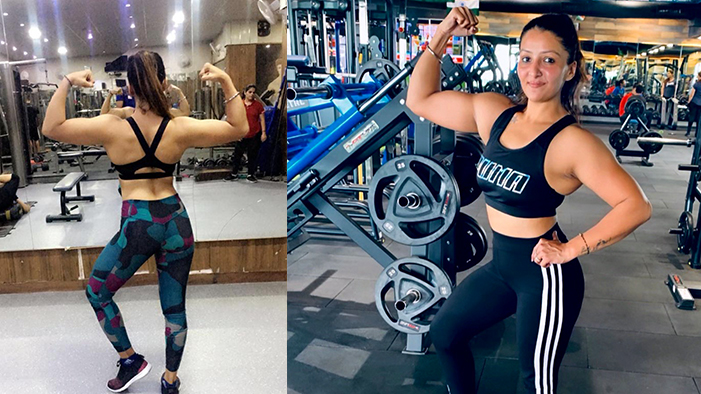 13. Please tell us about your family ?
I belong to a very educated family. My husband is a banker, my father in law is retired from CBI , I have two kids, a daughter and a son. My father is retired from Agriculture department (Bhopal) and my mother is a social worker.
14. Although you have been from an educated family, but you belong to a fraternity that is said to be very conservative. How did you manage to take such a bold step and how did you convince your folks ?
Education doesn't mean that you have to necessarily become a doctor or an enginee, rather it empowers you to create your own identity.
"life main wo karo jo aapko Khushi de, maine apni pehchan khud banayi hai and my family is supporting me." I think this is called true education and my victory.
15. Who has been your core strength and support in this journey ?
One and only my best friend is my core strength in my whole bodybuilding journey .
16. Which was your first competition and how did you prepare for it ?
Jerai classic 2018 was my first competition and I prepared for it for 6 months .The training was very difficult. I had to follow a strict diet,and had a rigourous workout too.
17. From the day you started, where all have you competed and what have been your achievements ?
All my achievements have been mentioned here.
18. Were you nervous when you were on stage the first time?How has the learning been over the so many experiences ?
Yes,I was very nervous but that nervousness was only there till the backstage.Once I was on the stage, I was extremely confident and realized that IMPOSSIBLE is nothing.
19. What are your future plans ?
My future plan is to compete on Olympia stage .
20. Please give a message to all the woman who you inspire.
My message for all the females that..."ITS ONE LIFE!LIVE! NEVER MISS ANY OPPORTUNITY"and always believe that " never loose hope , prove yourself that.. I'm a woman and I can do anything ".
GIVE A MESSAGE FOR FITNESS GURU READERS
"Give importance to fitness, especially the women who don't give priority to their health and fitness after marriage. Fitness, is for lifetime, always be fit!"