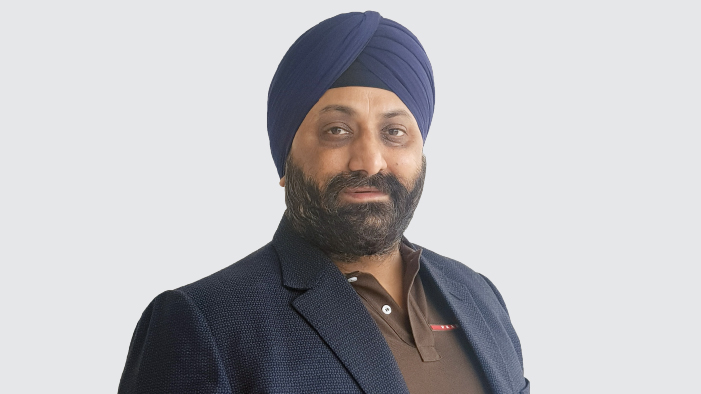 We see the expos, we see the branding, we see the glamour and much beyond, but what actually goes into making all that happen, are the efforts of a team, and the brains behind that vision. Bringing to our readers, an insight into the top leaders of the industry who are actually making all this happen………………….READ ON !!
A very successful Businessman with work of over two decades in the Fitness Industry, Harmeet Luthra has not only witnessed the change, but brought about the change. A pioneer in the industry, with FITLINE being one of the most popular brands in the country, the journey has been long. Articulate planning, a wonderful understanding of B2B, and B2C, and more than that embracing the change, and bringing the best to the country, Mr Luthra has stood the test of time, and is a stalwart in this industry.
With setting up of over 9000 gyms, and being the preferred and exclusive choice for many a names, this is a big achievement.
IN CONVERSATION WITH JINNIE GOGIA CHUGH, we read on that this is just the beginning!!
1. Firstly, congrats for all your achievements. Before we go onto the other questions, we would like to know what keeps you motivated ?
My passion is what keeps me motivated. Being in this industry since so long, my customers, my business associates, my Friends, my family ..they all keep me motivated.
2. You are one of the very few businessmen in this industry who are closely engaged in B2B and B2C business patterns. How is it that you handle both kinds ?
Both requires different type of handling but have one thing in common - service. That's what my play is.
3. What is more interesting and gives you a larger audience and clientele - B2B and B2C ?
Honestly speaking , both are equally interesting ..b2b helps in setting up the great market that caters b2c so that makes them equally important and a vide clientele
4. FITLINE has been a pioneer in the industry. What is your USP ?
I would say - value for money. We bring you state of the art equipment at actually nothing.
5. Heartiest Congrats for your brand RHINOS…..As the name suggests, the HORN is here to stay, but has debuted with a big bang. How did you plan this ?
Again, being in the fitness industry since 23 years and having set up more than 9000 clubs , we wanted to provide our nation its own friendly chain that is home grown and provide our members with the services that they would expect from any international chain. The idea was to save the money that our people unnecessarily pay to international brands. So we grew a chain out of our experience.
6. You have been very successful with FITLINE, was adding another Business of the GYMS a tough decision ?
I'm blessed with a good team, God has been very kind to me. It's a team effort, my partners, my friends, they all made it possible. It always is a team effort, has been
7. Everyone wishes to expand and grow. Any specific reason why you ventured into the GYMS ?
The way I said above , I wanted to help people learn from my experience . I anyway used to consult the gyms , chains , have been associated with a lot of clubs and brands in the past . So now, wanted to actually deliver our customers a close to perfect project which helps them in faster growth.
8. You have signed BOLLYWOOD ACTOR- SONU SOOD- as the brand Ambassador for your chain of gyms, and to represent the brand RHINOS.This is something unique and really BIG. Please comment ?
When I met Sonu ji, I was really motivated and awe struck by his vision toward Fitness and his passion and the urge to make India a fitter nation. The connection was almost instant. There I decided , who other than the fitness freak himself to be the face of my brand wherein he himself is so aggressive but yet not hardcore like my brand Rhinos itself.
9. RHINOS chain is a pan India chain. What is the USP and some specialities of the brand ?
Rhinos is open 19-24/7 along with providing member reciprocity, state of the art cybex equipment , bcA induced fitness programming , certified trainers to name some specialties . Our usp is our round the clock support.
10. What is it that differentiates RHINOS from the other brands ?
The value for money that we provide to both our b2b and b2c clientele is what separates us from others . Our project has two models with investment range starting from as low as 75-80 lakhs . No other brand give you such a project with fast returns on investment.
11. A lot of effort, meticulous preparation and vision goes in making a brand different, and successful. With your track record, you have been super successful with Fitline. What is the strategy for RHINOS ?
Strategy would be again as I said..to deliver service ..our support is what we known to be famous for.
12. It seen that tminutest of details are being taken care of in RHINOS, any specifications that you have for trainers/staff etc ?
We hire people who are people's person . This is a people's brand wherein we invest our love, care , understanding in you I.e. our members , our customers.
13. How many branches are operational as of now, and how many more to come ?
We are 9 signed clubs Pan India as of now out of which 3 are operation- 2 in delhi and 1 in Mumbai ..2 are in pre sale ..both in delhi. 1 in Jammu is in fit out ..3 more clubs have been signed the work to which will begin soon.
14. What makes RHINOS- THE MOST SAUGHT AFTER brand in the country today ?
Value for money ..you get the delivery for the best practices , services worth that of an international Chain or brand with almost half of what they are charging ..value for money is what separates us from the rest.
15. Any future plans that you would like to share with our readers ?
We would like to keep serving you all with a Pan India presence super soon. We plan to be around 20 clubs by the end of this financial year. We wish to make each and every one of us to be healthy along with dreaming of a fitter nation !
"We would soon give our readers an insight into the life and journey of MR HARMEET LUTHRA…..WATCH THIS SPACE FOR MORE."