Ploggers of India Ripu Daman
---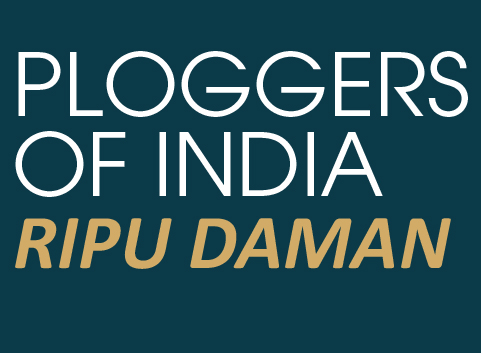 1 - What is PLOGGERS OF INDIA ?
Ploggers of India is a people's movement started in 2017 with a mission to make India litter free. Our endeavor is to reach 1.3 billion Indians to make them aware that cleaning up our world is OUR responsibility. Even if we can't clean up, we need to stop littering.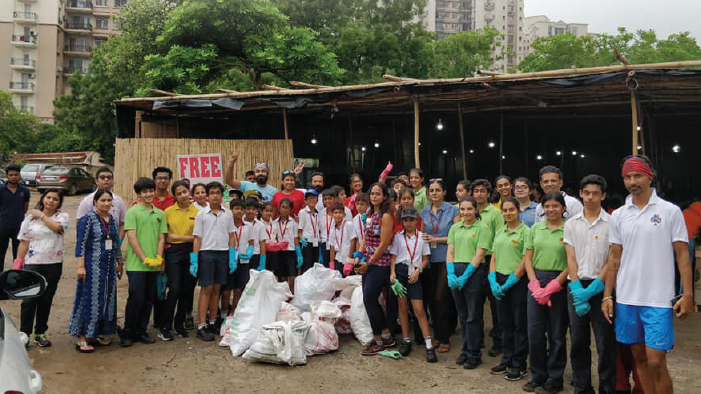 2 - When did you start running, and were you always into sports/fitness ?
Long distance running started in late 2016 and since then I have done several HMs, marathons and ultra distances. Sports and fitness have always been a part of my life. I have played cricket, football, volleyball, handball and was a middle distance runner (800, 1500m.) at university and state levels. In 2013, I had torn my right hamstring and because of that, walked with a limp for almost a year. The recovery was slow and painful and in the meantime, I had plunged myself into corporte life with 16- hour workdays and 4-6 flights a week, I had no life. In 2015 when the weighing scale tipped past 80Kgs for the first time, I was in a state of shock. I was physically and mentally sick and was coping up with a recent breakup. That's when I decided to take control of my life and first thing I did was start managing my meal portions, eating on time and drinking green tea to aid metabolism. Within 3 months, I lost 7 Kgs and then, I tried running only to realize my legs were extremely weak. I started with cycling and fell in love with mountain biking with my first one in Bhutan, where we covered some 800 KMs over a period of 10 days. In about one year, did several 100K, 200 K rides with the longest one being a 500KM Delhi to Amritsar ride. When I thought my legs were ready, I started running again and have never looked back since.
3 - How and when this love of running, translated into a mission ?
I have always been someone with a deep sense of belonging to my country and mother nature. I remember even as a child, I used to get very upset with people throwing trash around and sometimes, even lambasted my family doing so. With running, we run mostly in the mornings with lesser people and much lesser traffic. That's when you see the trash around you, even more. I decided that someone has to take responsibility of the trash situation around and started a group called 'My Citym My Responsibility' with an aim to take this mission to every nook and corner of the country. I got a great response from fellow runners and we started with the parks and routes we used to run in. I started travelling to various cities to organize clean up drives. Since it was initially with running groups across cities, we needed a cool term for this mission. A few months down the line we finally got our cool term, plogging which combines a Swedish term 'Plocka up' means pick up and jogging. And that's how Ploggers of India came into existence in 2017 with a mission to make ours a country of ploggers - one who takes responsibility of the trash and plastic before blaming the Government, agencies and everyone else.
4 - FITNESS with a CAUSE, that is a wonderful initiative as well as a huge responsibility. Please comment ?
It is! With great power comes great responsibility. I feel empowered with the awareness and my mission. However, I always tell people, Be The Change and Lead By Actions. If you see people littering, don't start preaching, just pick up that one piece of litter in front of them. Inspire people to be like you and to like you. Be the Change you want to see in the world and rest assured, people will follow. Through this mission, I have learnt patience and optimism to be my greatest strengths and I continue to take small steps each day. Even if I inspire one person to change each day, my work is done because that one person will motivate others and the chain continues.
5 - What motivates you, both for running, and for pursuing this mission ?
Running is my meditation. When I run I am devoid of any thoughts let alone negative ones and I love the person I become after a good run. With all the toxins that get removed with sweat, I feel all the negativity goes out as well and I see the positive side of the world. It's the same with Ploggers Of India, as you get a good workout, you sweat and inspire others to do the same. And yes save the environment too. What else do I need for motivation!
6 - Plogging is a really wise choice, but there aren't many people who are keenly interested in cleaning up the city.This applies not only to Fitness Fraternity, but everyone.So what motivated you to take this up ?
Plogging is a cool term for cleaning up. The millenials and GenX want to do cool things. Plus, you don't need to be a runner to be a plogger. So we are ushering new people and kids into fitness with a cause. Our goal is to make 'Cleaning up other people's shit (read litter) the coolest thing to do in India'. Our biggest focus has been kids and school children and it's amazing how enthusiastic they are about this. They take to cleaning up like fish to water. When you make something cool and simple to adopt, people automatically join in.
7 - When you started , did you anticipate this to become a movement ?
You don't anticipate or predict the future however, I have been extremely passionate about this cause and felt this was my calling. It's my life mission to make India Litter Free. I left my corporate life and startup last year to focus full time on this movement. We are just getting started and I want to make Ploggers Of India synonymous with Swachh Bharat. Let's make our country the cleanest country and example to follow for the world.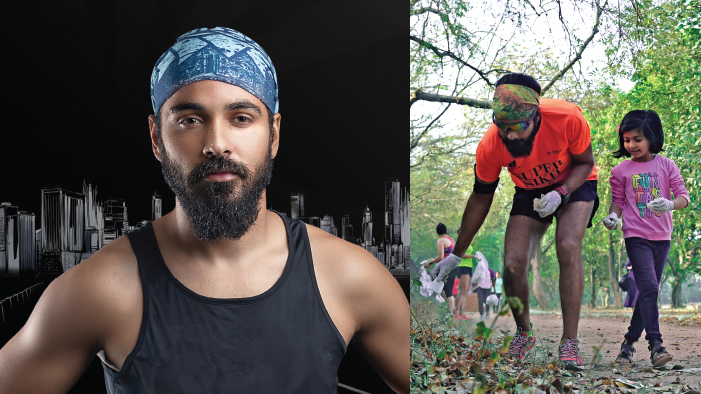 8 - Plogging has been named as a meaningful activity and the most trending in Fitness.Your comments ?
In about a year, plogging was named the top fitness trend of India. We created a hashtag #WorkoutwithaHeart. The best part is You don't need to be a runner have any fitness background to start plogging. According to some fitness apps, if you burn about 250 calories with 30 mins of jogging, you burn close to 330 calories with the same amount of plogging. You continously do squats, forward bends, lunges, single leg bends and many more, it's a holistic full body workout. It's not just a fitness activity for yourself but for the environment, making it clean and fit for our habitation.
9 - You were recently on a nationwide drive, for plogging. Where all did you go ?
I have been to more than 10 cities to organize drives. We have ploggers in about 21 cities and aim to cross 50 city chapters for Ploggers of India by the end of the year. For that I am starting a movement called 'Run To Make India Litter Free' where I will be running and cleaning up 1000 kilometers across India covering 50 cities and all terrains like beaches, hills, plains, mountains, river basins, gangetic plains etc. It will be the longest clean up drive undertaken anywhere in the world on foot. Some people have started calling it the Bharat Clean Up Yatra. I will be starting in July and it would take about 3 months to complete.
10 - It is said to bring a change, BE THE CHANGE, and you have proven this by example. Any comments ?
I am a firm believer in it and work on ground everyday. We all crib and complain about all the trash around and blame the Government, agencies even our neighbours for the problem. Cleaning up other people's litter is literally not in our DNA. However, I believe when you bend down and pick up that one piece of litter, that's when your journey begins. Ploggers of India delivers a simple message, Carry your own jhola, own bottle, and you DON't need that straw. Single use anything is bad as it adds to waste problem. REUSE, REUSE EVERYTHING OR REFUSE. These are simple things I follow in life and hence, deliver as a message.
11 - Where all have you been featured and where all did you get coverage ?
Recently, I was an honoured with a feature on Government of Sweden's official website for Ministry of Foreign Affairs along with the Ambassador to India.
http://www.swemfa.se/2019/02/19/plogging-an-eco-friendly-trend-on-the-move/
Ploggers of India have been featured across global and national media like CBS news, BBC, Buzzfeed, TOI, The Hindu, The Week and many more as the foremost and most active community in the world. I have been featured on American TV, news and radio with titles like 'Plogman of India' and India's plogger. Sometimes these titles feel a little overwhelming because I believe what we are doing is nothing extraordinary. It is the responsibility and duty of every citizen towards their country. If these cool titles help, I want 1.3 billion Indians to be Plogmen of India.
12 - How do you plan to spread this message to more and more people ?
We have organized and supported 300 drives across India and ploggers are active in 21 cities. We do regular drives with schools, NGOs, running events, corporates, residnetial societies to take our message to every part of the society. With Run To Make India Litter Free, we are going to take our mission to more than 50 cities involving municipalities, government and agencies. Now, We have a small team of volunteers now which will focus on social media to help spread the word.
13 - Have you got any sponsorship or any support in this mission ?
What we have got till date is people's support and joining the mission. I have been bootstrapping all our activities till date. Now, we are in the process of raising some funds and partnering with like-minded organizations to grow the mission and take this to all parts of India.
14 - Please share your immediate and long term future goals ?
My immediate goal is to have 50+ city chapters of Ploggers of India and reach 1 million active plogging community. I believe Ploggers of India as people's movement will become synonymous with Swachh Bharat. And my ulitimate goal is to make India Litter Free.
15 - Give a message for the readers of FITNESSGURU ?
Fitness is extremely critical for a good life. Only if we are fit would we be able to give back to the society and our country. We all should work on our fitness as well as the fitness of our environment. IF you are looking for motivation, join us at Ploggers Of India on FB and instagram. #TogetherWeCan make India Litter Free and thankyou for featuring us.