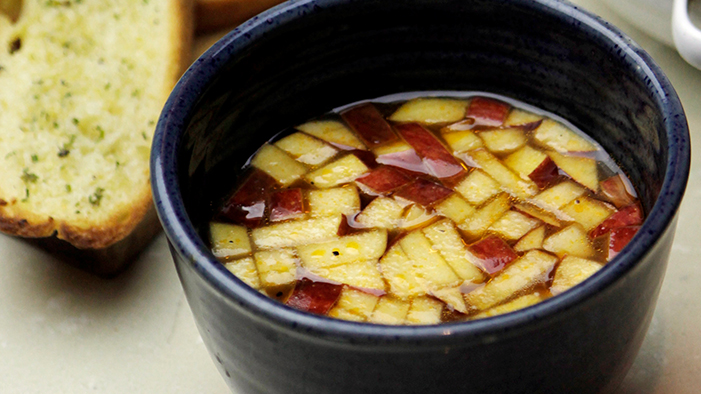 Associated and enriched with his experience with some of the best names in the industry - Outub, Olive, Junglee Billee, Chief Pawan is known for his versatility European cuisine is his strength but his heart lies in regional cuisines. Known for his skills and professionalism, Chef Pawan is a popular and one of the most promising name in the industry now. Chef Pawan's mantra, however is, that cooking is an emotional process and if you do not cook each dish with your heart, it's and effort gone waste.
APPLE, TOMATO AND TRUFFLE SOUP
Preparation :- 10 mins
Cooking :- 05 mins
Servings :- 4 portions
Ingredients :-
3 cups tomato juice
2 cup apple juice
1slit and deseeded green chilli
1 table spoon chopped fresh basil
Few drops of truffle oil
½ cup fresh apple chunks
1 tablespoon olive oil
Salt to taste
Crushed black pepper to taste
Method :-
Take a pan and put it on medium heat. Add olive oil to it.
Put the green chilli and chopped basil to it and sauté well.
Once all the flavor of the green chilli and basil is infused in oil add the tomato juice and cook well.
When the tomato juice is reduced to half of the original quantity then add the apple juice.
Cook for two more minutes. Adjust seasoning.
Garnish with the fresh chunks of apple and few drops of truffle oil.
Serve hot.