Salmon Avocado Salad Roll
---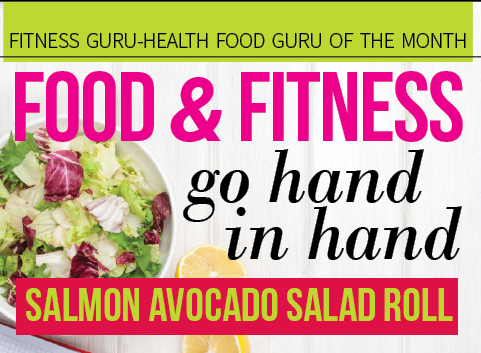 By Chef Vaibhav Bhargava
Don't be pushed by your problems. Be led by your dreams because if you treat every situation as a life and death matter, you'll die a lot of times".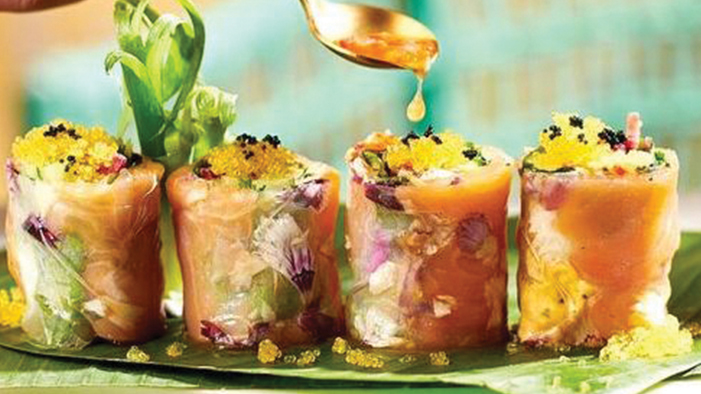 Chef Vaibhav Bhargava has been in the industry for over 16 years now and has worked with some of the biggest conglomerates of the country. He has also had a successful stint with the ITC hotels, Jaypee group, Olive Bar and Kitchen Guppy by Ai, The Drunken Botanist, Vietnom and the Hyatt group.
Chef Vaibhav Bhargava possess both culinary and administrative skills in and his willingness to create new dishes and techniques has often found him recognition and has helped him become a versatile consultant chef with expertise in various forms of cooking.
He has many awards to his name, yet what comes across most beautifully is his humility!
SALMON AVOCADO SALAD ROLL
A gluten free and healthy way of eating salmon salad packed with omega 3 and proteins.
DIRECTIONS:
1.
Cut carrot and cucumber into long thin strips.
2.
Soak the vermicelli noodles in 500ml of hot water for 10 minutes and set aside with vegetables.
3.
Heat a large saucepan with the sesame oil. Add the garlic, ginger, coriander and sweet chili sauce and fry off the paste for approximately 10 minutes, add the grated palm sugar and cook for a further 5 minutes.
4.
Add fish sauce and tamarind concentrate and cook on low for 15 minutes before straining.
5.
Place 1 roll of rice paper in a bowl of warm water until just softened; lift from the water carefully and place on a board.
6.
Place a slice of salmon, a slice of avocado, mint , coriander , noodles and a little of the carrot and cucumber and onion on one end of the sheet and spread some sauce along on it .
7.
Roll once, fold in sides and roll up.
8.
Repeat with the remaining ingredients and serve with Dipping Sauce.
9.
Dipping sauce- combine all ingredients in a small bowl.
Lebanese cucumber,
Slices smoked salmon
500gm
Large avocado, sliced
200gm
Spring onions, sliced
100gm
Round rice paper
DIPPING SAUCE
Fresh coriander chop
20gm
Fresh mint leaves chop
10gm
Fresh red chili chops
5gm
Note:
Serving size
: 1 spring roll