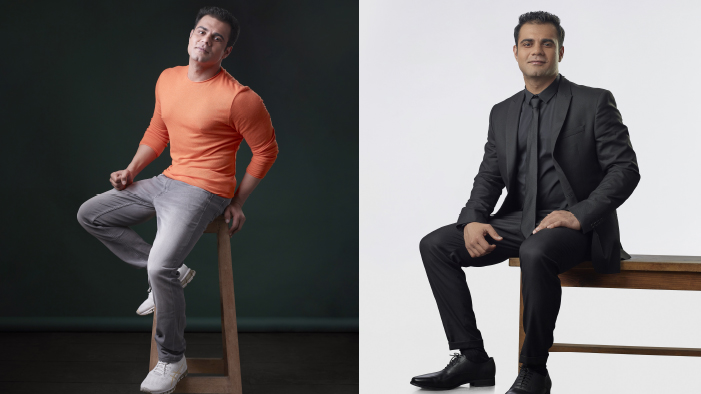 A prolific writer, his book has garnered much appreciation from every sector, and he is already writing his second book. Much awaited as is his book by his patrons, a huge audience appreciates him for his amazing Fitness. So here, we have an insight into the life of this multi talented guy who is a STAR…. !!
Actor, writer, model, fitness icon, business man- that's too much of talent in one kitty…..what exactly do you do ? Please introduce yourself ?
I have always felt that I am a Jack of all trades still trying to find the one act I would like to master. While my impulsive nature has not always done me right, it has however, got me where I am. I have always loved just jumping in and giving my best into any field which raises my heart rate and gives me the excitement and the adrenaline rush I always crave for.
How did it all begin ? Please talk about your journey in fitness ?
Fitness was never about vanity to me. Personally, it started off as a stress buster and deep down inside I believe we all have a savage side to us and it's not right according to me to show that side in public and I started doing so in the gym.
With a grueling schedule, how do you manage to take out time to maintain this level of FITNESS ?
To be honest, it's not fair for me to say that I never miss my workout, have my chest days and walk around with a six pack throughout the year. I believe I prioritize things one at a time and I am not the best multi tasker. But what I am proud of is that I don't let myself go too far from where it would be impossible to pull back.
Diet and Nutrition play a vital role in Fitness. Your opinion on this and Please tell the readers about your diet and nutrition ?
Well again, the answer here everyone would be expecting would be that I always do the right thing and always eat the right thing and diet is everything but I don't think that's humanly possible and I think that people should stop being so hard on themselves. I feel life is more about not doing the right things but it's about not doing the wrong things for too long. Having said this, I do feel that I have somewhere won the genetic lottery just like a lot of other people who are fit because of a high metabolism. I have always been on the extremes so when I eat rubbish, my stomach is no less than a graveyard. But when I eat right, it wouldn't be wrong to compare it to the Garden of Eve.
Share your workout patterns with the readers ?
Well, cardio has always been one thing I have hated the most. I just love doing weights.
Unlike most other people who workout, I do two muscles a day usually the opposite ones for example back and tricep or chest and bicep. I will be releasing a workout video very soon which will clearly show all the variations I do. However, cardio is a very important part in terms of your heart health, your stamina and endurance. So I replace it with boxing as I've always been a very big Rocky fan. And I feel I have learnt a lot, not only about the importance of fitness but about life from that movie.
Are you interested in any of the FADS DIETS- KETO,LCHF, VEGAN etc ? Your opinion on these fads ?
Well to be honest, I feel these so called fads are nothing more than a passing fancy for few and for others just an experiment hoping that it would work. So it all just boils down to eating your veggies, having the right protein intake, avoiding sugar and the other basics.
What are your favourites when it comes to workout ? Which body part do you like working on the most ?
For most guys the obvious answer will be the arms because that's the first thing people notice. I personally enjoy working out on my back and I have forced myself to love leg day and now I think I finally fool myself to believe the same.
What are the basic things that help you when you travelling ? How do you manage at that time ?
Honestly, when I travel, I don't really go to the gym. I either go for a sprint, give myself some rest, go for a nice massage or do absolutely no physical activity and come back and make up for it.
What have been the obstacles and hurdles you faced ? And how did you overcome these ?
I think everyday has been a challenge not only in terms of fitness but all the other achievements and I think God has been very kind to me and helped me through the hardships and one saying I always relate to is, " Success is moving from failure to failure without losing motivation."
Fitness obviously requires a lot of dedication and commitment. What makes you stay committed ?
Like I said before, vanity was never a reason for my fitness. Fitness has been a stress buster. It has been my outlet and my way of coping with the days which are not so good and with the times which were not so good.
Fitness today has an all new definition. While on one hand its all about WELLNESS superceding everything, there is still a section of society especially amongst the youth that just equate FITNESS with a good physique, your comments please ?
I can give you my definition of fitness and my definition of fitness is not only physical, but also mental and emotional. So next time when you look at yourself in the mirror, it's okay to love yourself because you have a good physique but make sure, you also love yourself not only for the good physique but also for the kind of person you are.
Has fitness helped you in your other pursuits of life ?
DEFINITELY YES!!! I believe that fitness will help you in every aspect of your life. When you look good, you feel good. When you are healthier, you are happier. When you are healthier, you're smarter and quicker. No pun intended.
Have you ever considered competing in a professional Fitness Championship ?
Let's leave that to the professionals. I dont think it's my cup of tea. How much ever I love fitness and everything else that comes with it, my goal has been slowly drifting towards helping others in need. "Making it less about I and more about us."
Please leave a message for our readers ?
If you've been patient enough and read all that has been written, I am very grateful. *winks*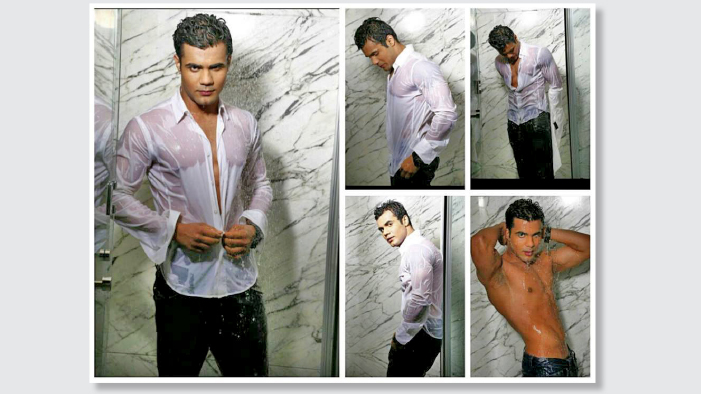 Modeling career
I've never considered myself as a model. If anything, I consider myself an average to a slightly more than average looking dude. A few small projects that I have done here and there were a great experience. I got to share the ramp as a Male showstopper with the great Sharmila Tagore. I've also had my initial embarrassing moments where I was asked to take my shirt off in front of people and stand in line to pose for the cover of men's health when I would definitely say I was shy about the whole experience especially when there were women photographers and women makeup artists around.
Business
My father started off with nothing and is now living what would be a dream for millions. So from day one, I knew those shoes were too big to be ever filled so I never tried competing. I knew I was born with a silver spoon so I thought the best thing I could do is be there for others. Be more than a life coach. And businesses this size run on auto pilot and there have been trusted employees working for more than my age so till the time there was never any crisis I never really had to step in and do anything extraordinary. Having said this, I know the peak my family business has reached in the engineering and construction division and now I am looking to diversify and expand and touch the untouched areas.
New venture:-
My new project is named Invincible you.
It aims at helping people maintain their emotional, mental and physical wellbeing.
Specialised diets will be designed as per client's requirements depending on Bulk body, Lean body, Weight loss and detox.
Life coaching one on one as well as group sessions will be conducted by me and others for motivation.
Counseling will also be available, for example if a person over eats or doesn't love themselves and doesn't take care of themselves, we look into it reason behind it and work from the grass roots.
Meditation sessions will be held based upon 3 techniques designed by me. One meditation and one yoga session a day will be compulsory.
One in house movie theatre for client on their rest days.
And it does not have to be said but sweating will be taken to the next level while in the gym.
RAPID FIRE
THE STAR- ROHIT SETHI, here's a rapid fire for you:
2.
FITNESS TO ME is everything
3.
TO ME WRITING MEANS sharing my views
4.
DARK CHOCOLATE OR MILK CHOCOLATE…… dark
5.
SUGARY OR SAVOURY…… sugary
6.
MY FAVOURITE GYM DAY
Sunday afternoon when the gym is empty
7.
MY STRESS BUSTER connecting with like minded people
8.
MY FAVOURITE BOOK and AUTHOR Rohit Sethi , the void
9.
MAMAS BOY OR DADDYS FAV…… mama's boy
10.
I HANDLE MY FAN FOLLOWING BY…… I don't, because I can't I run from it.