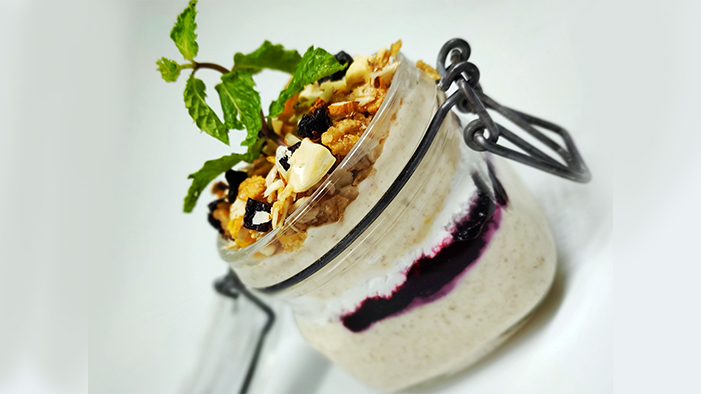 Her first dish was a "Chutney cheese sandwich" which she learnt at school and lovingly made it for him at home. The interest and sincerity of her efforts made him decide that she can carry his legacy forward in her own way. He cooks and bakes with her on his off day. She decided the dishes she wants to cook, googles the recipe and posts it on her recipe board. Chef Ashish occasionally also makes a video of a few of the dishes and posts it online which encourages her as well. Apart from cooking , Samaira is an ace classical dancer of Bharatnatyam and an avid reader.
MUESLI PARFAIT
Oatmeal releases sugar continuously at low speed into the bloodstreams which helps in reducing fatigue and anxiety
Blueberry being rich in nutrients puts your immune system in action. It's a great antioxidant too
Nuts and honey make it even healthier
Method
1.
Mix oats with chopped almonds, chopped apricots, grated apple, grated carrot and milk. Soak mixture overnight.
2.
Next day, add yoghurt, raisins, honey.
3.
Add the muesli in a bowl, layer it with blueberry sauce and dried muesli.