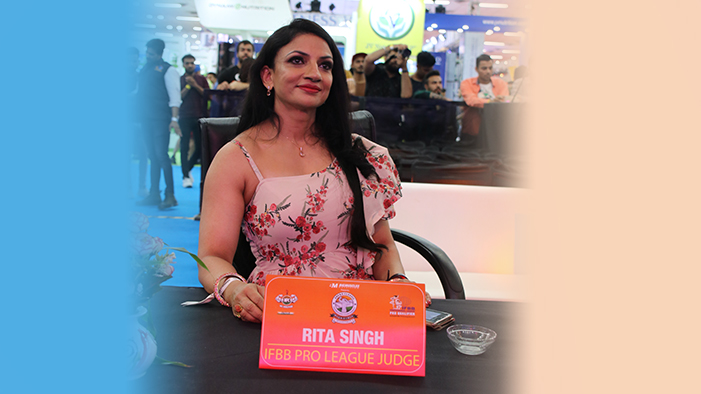 This is not good for you. Your joints will undergo wear and tear unnecessarily.
I replied, "What about the women in the villages? They do not have proper rest and nutrition and do far heavier work in the farms and household the entire day. Forget about comfort or sleep. Have you seen the women labourers whose strength comes from the mind and need to feed their children?
Are their bodies bulky? No way. They never suffer from lifestyle diseases and nature gives them immunity and resistance.
Such incidents would hurt the egos of the trainers and while I just simply wanted to do what I felt that I was made for, they perceived me as some sort of a rebel.
I continued with a smile. This happened often. The more it did, the more incidents occurred before me making me realise that India has a very long way to go and that, there was hardly any education in fitness science.
And while bodybuilding in men was popular, the boys did not have the kind of awareness that could get them real results, in a knowledgeable way.
What I mostly saw the boys doing was getting into a 'gaining phase' and a 'leaning phase'.
In the gaining phase they would eat anything and everything with the idea of getting huge and the hope and wish for gaining some muscle in the process.
And in the leaning phase, they would take extreme measures to shred drastically too much, too quickly.
Obviously this would play havoc on their internal health. The presence of women was almost nil. We still did have many legendary and exceptional bodybuilders even at that time. However, they were never allowed to rise and shine to their fullest potential. I remember when for the first time I travelled abroad, stayed in Florida to train at the Bombshell fitness Headquarters and lived in Arizona with Dennis James to understand this beautiful amalgamation of science and art, it was a rage.
Eventually, I competed and while I didn't place first in my first competition, I still had formed a great body, keeping the best of health, got the second and third positions on various divisions, it was received in a very positive way.
In India, we didn't even have the various divisions for women. Just to keep it inclusive, women did participate. But women are like different flowers. Everyone has a different structure
Unfortunately, there was just one division, one class, one criterion- the amount of muscularity.
Bodybuilding was bound in the shackles of federation officials with limited experiences and was restricted.
So, it was clear that there was an urgent need for a paradigm shift in the idea of how bodybuilding is perceived. There was a need for a drastic change, a metamorphosis in the entire fitness industry.
Over the years, with the expansion of internet social media creeping into our lives and some passionate athletes, stepping out into the world, as well as some great entrepreneurs and visionaries this has completely changed. We have been seeing huge expos, lucrative businesses and tremendous opportunities and potentials in this industry. And this has been a blessing for innumerable people and their lives.
Being very passionate about fitness, I had an opportunity to give an expression to my strength and art and also educate myself academically in this field as well as get a huge amount of international exposure, enriching myself with learning experiences and putting women's bodybuilding in India on the world map.
During these years, several girls came forward who were also keen to compete. This field was expanding in geometric ratio. I had a beautiful vision before me.
Since, I had been into this for a while; a lot of athletes approached me for guidance regarding their athletic career. Most athletes especially women did not have in-depth understanding about the sport or the system, business, culture, federation etc. All they wanted was to do their best and achieve their dream body. But as we all know, a lot more goes into it. I strongly felt that I could be instrumental in spreading awareness and mentoring newer athletes. It won me so much love that I felt that instead of continuing to endlessly compete with the upcoming athletes, I must help, support and encourage them for which I needed a platform.
Since competing, has always been my passion, as it helps us to understand our bodies and mind and evolve further, it wasn't easy to get away from the limelight. But there is a universal fact. Every athlete no matter how glorious or successful he or she is has to retire someday.
And moving beyond the golden age of 50 years, I had to take a stand. I had received my IFBB Pro Card, which I had attained after having been through complex and difficult times. So I had to take a call.
But I wanted to continue to remain associated with the field, wanted to still stay where I always belonged. Nevertheless, it also would be a disheartening precedence for all female athletes if I would look as though after all the hard work and sacrifice; this is the fate of an athlete.
But by God's Grace, we now have a huge platform which has been a God sent opportunity for hundreds of people like me. There is a place for every person in this field now, depending upon his capabilities. It is so huge that it can be possible only by the collective effort of every person.
Since I had done numerous courses in fitness science and prestigious certification in diet and nutrition, as well as a PG diploma in exercise science clubbed with international exposure and understanding of various rules and criteria in the NPC and IFBB. I had also evolved as a person, to understand the psychology of an athlete, triumphs and disappointments and how the judges had felt and marked and chosen a champion in various stages. We didn't have a woman judge until now in the whole of South East Asia. So here is what I had. This was truly God's gift to me. I could use my expertise and experiences to become the first woman international judge in South East Asia in a male dominated profession.
That was fantastic. I knew I could now remain associated with the industry I loved the most and remain where I belong for life, no matter how old I became.
And the idea of becoming an IFBB Pro League Judge became possible only because of the several IFBB Pro shows that were now happening in India. A woman representative was needed. In the current scenario, where we have hundreds of girls now coming forward to compete, it is so much relevant to have the presence of a woman judge. I am so proud as well as grateful that considering my knowledge, expertise and experience, I had the opportunity to take up this tremendous responsibility.
Regionals: I had already been judging shows earlier. That had enriched me and had been great learning experiences. Working with IFBB has been an absolute honour. They set the highest standards and it helps every person associated with the IFBB to evolve as an individual as well as a community. To judge a show at a national and international level, I needed to undergo a full-fledged examination and interview by an expert panel from the USA.
So although I had now already been doing it for a while, my first experience as an international judge was at the IFBB Sheru Classic Pro-qualifier at Pragati Maidan New Delhi. I was overwhelmed by the love and adulation I received, from one and all. Many athletes, especially women came forward and told me that since I too had been an athlete, they could all relate to me and felt a lot of peace seeing me in the judging panel. I knew I had a very huge responsibility and it was my primary duty to stay focussed throughout the show. Being a subjective sport, making a decision in a limited time can affect the morale, psychology and life of an athlete.
Every single athlete who is on stage has worked hard, spent money, time, and overlooked social life for a prolonged period but since we know that every competitor cannot be a winner, I had to be extremely focussed, passionate, sensitive and dutiful.
Judging is in fact, a very humbling experience. In fact, being non-judgemental is a life-value, that we must accept the individuality, beauty and hard-work of every athlete unconditionally.
So what we do in reality is collectively choose the most appropriate athlete, who fulfils the criteria of the division and class in which he or she competing. It is a sacred job. I am joyous and elated that I am now performing it and have been welcomed with open arms. Judges across the world have also had the opportunity to travel to other countries and enrich themselves to widen their horizon of thinking and learning.
I am looking forward to getting more and more experience in future so that I can proudly hold my head high and say that an Indian woman, became a body building athlete and a judge in a very unconventional, male dominated field and since this happened in India and she was accepted with such love, respect and grace, there can truly be no place like India on this planet. We have proved in over and over again and I am elated that I have played my role in being instrumental and represented India on the world map.
I have also been conferred the TWPM title of WORLD PEACE Ambassador by the Wockhardt Foundation in the world Peace keepers movement and will represent India in the panel of world women congress on women's day in 2020.
I wish to express my heartfelt gratitude to IHFF Sheru Classic and Fitness Guru to have given me the platform and opportunity to come forward and given an expression to my knowledge, ideas and capabilities.
Jai Hind.
"A truly amazing journey and experience penned beautifully by the versatile and graceful Rita Maam! Many congrats to her for her yet another landmark achievements, and the shall continue to exul!! "
Regards : Jinnie Gogia Chugh