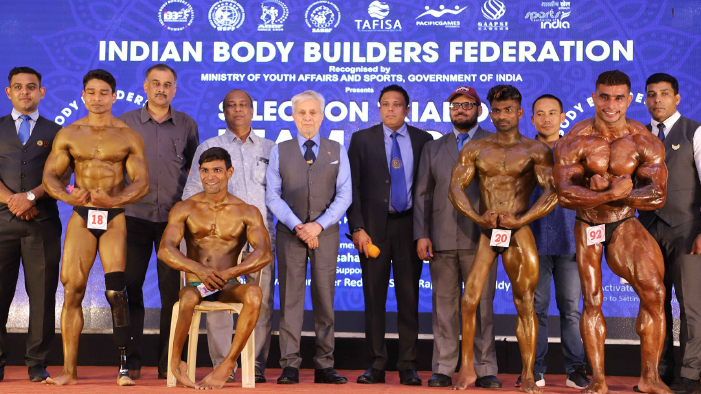 2. Who are the founding members of IBBF ?
Our president since 2009 is Mr Prem Chandra Degra, who himself is a Padamshree Arjun Awardee and Mr Universe. We are proud that we have such a president who is leading our federation.
I, Chetan Pathare am the Secretary General of the Indian Body builders federation. Recently I was appointed as the Secretary General rather elected as the Secretary General of the world body builders sports federation.
We have a wonderful team of dedicated and hardworking professionals who work painstakingly for the federation.
3. How strong has the association with WPBF been and how it has been developed with time ?
We have had a strong and ever growing and endearing relationship with the WBPF. We take a strong team and represent our country with the best of the athletes. This exposure of an international competition paves the way for much more in the future, and we ensure that our athletes are at par or rather better in every way. We also take care of the athletes, and you would have never heard any tales of agony or mistreatment for our athletes. Our athletes gather much limelight and are always respected at the international championships. As I have been appointed as the Secretary General rather elected as the Secretary General of World sports federation. I take the opportunity to thank Mr DATUK PAUL CHUA, now the president of the world body building and sports federation and he has put in his trust and all the executive members of the committee of the world body building physique sports federation also supported his decision and elected me in that particular position . I will do my best and will do justice to this position .We will do our best in the field of sports not only in India but throughout the world and I am sure I will be able to do something different.
4. IBBF is the only officially recognized and affiliated federation from the ministry of sports and youth affairs. Elaborate ?
We have more than 45 units which are state association union territories and all the Government sports boards are affiliated with us. I'm very glad to inform that ours is the only federation that has the recognition of the ministry, and in the Government sports board we have got Railway Sports Promotion Board, Ordinance Sports Factory Board, Services Sports Control Board, All India Police Sports Control Board, Income Tax, Gst Department, Central Civil Services Cultural And Sports Board.
5. Please tell us about the expansion and reach of IBBF ?
IBBF is affiliated to the Ministryof Youth Affairs and Sports, Government of India, Sports Authority of India and National Anti Doping Agency and many other government sports boards are also affiliated with us. On the national level we have more than 5 thousand athletes -men and women registered with us, pan India. Every unit conducts their own championship which may be at district /state level and the Indian body builders federation every year conducts a national championship.
6. Please tell us about the NATIONAL CHAMPIONSHIP OF IBBF ?
The National Championship is the most prestigious Senior National Body Building and Physique Sports Championship. We have 10 weight categories for men and in women's body building there is one weight category. We also have a category of MENS and WOMENS MODEL PHYSIQUE.
Other than this we organize THE FEDERATION CUP. The federation cup also has primarily three categories, majorly bodybuilding , both mens and women bodybuilding .
We also have the second most prestigious championship where we have the JUNIOR and MASTERS, then the DIVYANG, PHYSICALLY CHALLENGED group as well.
MASTER IS -40-50-50-60, JUNIORS IS BELOW 21 YEARS, DIVYANG- BELOW 75/ABOVE 75
We respect the athlete community and try to give a fair chance to everyone to compete, who so ever has a passion for the sport.
7. Any upcoming plans for any championship ?
Yes, this year our senior national will be a great surprise , and not much can be disclosed about it at this stage. We are going into a major collaboration and it's going to be a big senior next year in the month of March 2020. So wait and watch.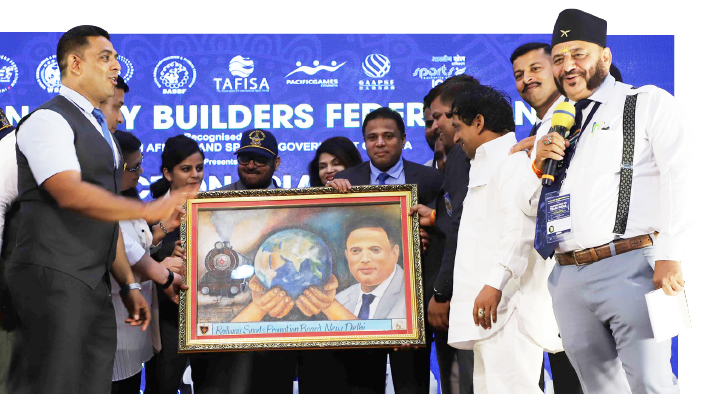 8. IBBF has a major contribution in the development of fitness industry, and also in spreading awareness and acceptance about PROFESSIONAL COMPETING (BODYBUILDING/PHYSIQUE/FITNESS). Please elaborate ?
I always say and maintain that body building is mother of all sports because any sport you take requires fitness, and hardwork, such as sports like badminton or tennis requires a lot of vitality, exercise, physical training, also for competitive sports based on performance such as powerlifting and weight lifting ,one is required to undergo strenuous training.
Even for shooting also you require a lot of exercise for shoulder for fore-arms. We as a federation, are a group of like minded peole and we are putting in immense hardwork to justify the passion of athletes, and to give them their due in sports in this country. Yes, it gives me pleasure and pride, to humbly accept the role of IBBF in the physique sports in the country, and to work on its ethos, acceptability and respect.
9. Today the FITNESS INDUSTRY is immensely growing, and PHYSIQUE SPORTS has been a field which has gathered much highlight and importance. It was IBBF that started this trend. Who all have been with you in this journey. Pls comment ?
To begin with I would like to thank you for the kind words. This journey has been a long one and I would sincerely like to express my gratitude to Mr Madhukar Talvarkar for his unflagging support and trust in us.
Also, Mr Subodh Menon who has been a great support .
Next, I would like to thank all my athletes who have been a great support towards the federation and they have stood like a strong pillar for making us what we are today.
I would like to thank each and every one who has supported and been a part of this federation, and my special mentions for the Secretary General of WBPF .
IBBF- would not have been possible without their support, including you Jinnie.
I will like to thank you for promoting our federation. Its important that the facts are put upfront and we can let the world know of our future endeavours and expansion plans.
10. All the major names in FITNESS, who have become the fitness icons today began with your federation. IBBF gave the platform for the start and initiated a renowned career, and turned it into a revolution. Pls Comment ?
Thankyou so much for the kind words. Yes, most of the athletes who are icons today started with us, and it gives us extreme pride and happiness to see their trajectory of success. It definitely feels good and is very rewarding to see them empowered and flourishing so well.The right platform for the right talent is the need of the hour, and if they get the right direction, then sky is the limit.
11. IBBF as a federation has been very athlete friendly, and believed in fairplay.Please tell us about the ethos of the federation ?
IBBF is very particular about the wellbeing of the athletes, and also ensure the fair play. The simple reason behind is our respect for the dedication of this sport and we value the passion that the athletes put in towards this sport. Both at the national and international level, we ensure that our athletes are taken care of well, and are treated with utmost respect.
During the national championship every year Indian body builders have been awarding cash awards . The cash award in the national championship is itself one crore1.5 crore along with it .
We have also been sponsoring few athletes who have been participating in national and international championships. This year also for the Asian and World Championship ,we have chosen a few athletes and all their expenses are taken care of. Not only this, we support a few in every possible way, from their requirements for the prep, to a good gym, we are there for our athletes.
It gives me pride to say that many of these have won medals and brought laurels to the country.
12. In today's time when there are so many federations mushrooming every nook and corner, with a small affiliation from some small country/place in the world, and you see a MR World, or any Title at every corner in a small town. How do you distinguish to be the best ?
Firstly I have respect for all these championships and competitions, but my sincere appeal is that there are few other event organizations , whom I won't refer to as federations but event organizations, who have been conducting the championship differently. I urge them to come under the umbrella of INDIAN BODY BUILDERS FEDERATION .
Ours is a recognized federation and we our athletes are entitled to jobs and a secure feature ,and our athletes have been inducted by many organizations, be it railway services ordinance or police boards or wherever the Government boards are, the IBBF athletes get the jobs.
The athletes who put in their lives, efforts and have dreams to pursue their passion, should be backed by a recgonised name that delivers as it promises. Therefore I urge all the athletes and officials who are working in different federations, should come under the umbrella of IBBF and work for the promotion and for the body builders .It will surely be a wonderful experience for them , and it will to lead a right path and strengthen us all.
13. What is the reason that IBBF has been the preferred choice and the chosen federation by most of the athletes in the country ?
We are the recognized national sports federation, thus entitling our athletes for the coveted NATIONAL AWARDS AND RECOGNITIONS.
The awards can be given only to the certificates which are recognized which are managed, and duly signed by the Indian Body Builders federation and the participants who participate in the Asian and the World Championship through IBBF.
Our athletes are eligible for the ARJUNA AWARD. Recently one was offered to S.Bhaskaran from the Indian railways . It was because of his out standing performance , as he was awarded the Gold medal in Asian and world championship in 2018 both.
14. IBBF always chooses very different locations for the championships, and even if it's a small town in Maharshtra, or Vizag, the arrangement is the finest, and extreme care is taken for comfort of all participants ?
Yes, we are particular about the arrangements, be it at any venue that is chosen for the championship. We put in our efforts, and ensure the best of the arrangements for all- athletes, and officials. We choose a 4 star and 3 star property for the stay, and the venue, the main stage and all other aspects are taken care of. Yes, tremendous planning, and execution goes into this, but this is what we want to do for our athletes.
I would like to add that in the last two years , the championship were organized in 4/5 star properties in Pune 2018 and in 2019 Chennai. These have been one of the best championships ever conducted. I am happy that we work as a team and we are able to work for the body building industry.
It is also pertinent to note that last year the Chennai championship was conducted by the bunch of body builders who came together from Tamil nadu , this includes Mr Bhaskaran Mr arzoo, Mr Senthil Kumar, Mr Rajendran, Mr Benjamin, Mr Balamurgan, Mr kotai, all of them are current body builders who have been participating in the national and international championship, and are achievers. They came together to conduct this championship and it was an awesome experience for IBBF to work together with them and they really did a wonderful job.