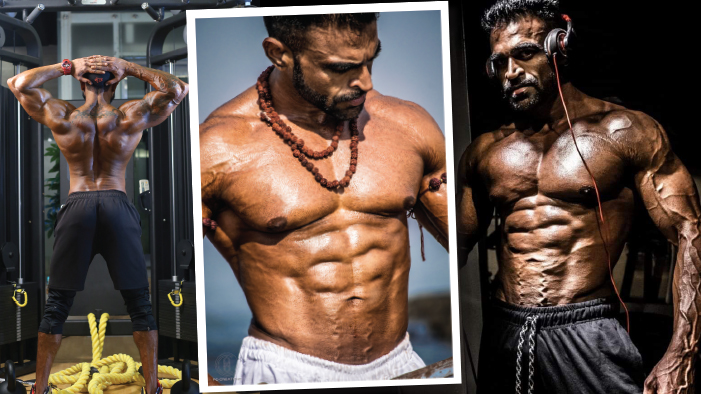 Recognised in the industry as a renowned athlete and a wonderful Fitness professional, the journey of Mangesh is no less than a miraculous one but more than that a truly inspiring one, the one that should be read by and known to millions. Learn from his journey and see how tedious it has been,but how with hard work you can CREATE YOUR FUTURE……
Personally I was moved by his journey and had tears in my eyes to know about his struggles,yet the inspiration that he never gave up.He has mentioned over a thirty names , the people whom he wanted to acknowledge and thank, and this itself speaks volumes about his humility.
If someone deserves to be on the cover - truly it is MANGESH…………..
CONQUER THE WORLD MANGESH, SKY IS THE LIMIT !!OUR BEST WISHES!!
1. Firstly, congrats for your achievements and your terrific journey. How has it been ?
Thank you so much Fitness Guru.
Yes,it was terrific and very struggling journey.
But I am very happy and grateful that my hardwork has finally paid off.
It's been an amazing journey so far and I believe that the nest five years will be even more rocking.
2. How and when did you start BODYBUILDING ?
I started Gymming as a hobby in 1997.But there wasn't any specific goasl or any such scientific schedule.
I had no awareness about Diet or Fitness. I remember doing DANDBAITHAK, and SURYA NAMASKAAR.
In my village, VENGURLA, dist. SINDHUDURGA, Mr. Kishor Sonsurkar the bodybuilder from kolhapur started his own Gym. Me and my friends joined that gym, and under the guidance of Kishore Sir, I started doing well.
THIS WAS A VERY IMPORTANT PART IN MY LIFE.
My genetics were strong, and I progressed well, and I learnt about professional competing and bodybuilding.
3. Please tell us about your beginning years, your place of birth, childhood, and finally the step into the world of Fitness ?
I started form a very small village, and my journey is from a small village to a gentleman in a big city. Learning and Adaptation are the two most important things that one must do, and these traits have helped me reach where I am today.
It feels very good when I'm recognized as a fitness professional Athlete Mr. MG.
4. How and when did you decide to come to the sport professionally ?
I have been competing in professional bodybuilding, men's physique my category since year 2014 till now. From Maharashtra Shree 4th place to a gold medal in Mr. WORLD.
5. What was the turning point in your life ?
I got the first silver medal in Mr. Kudal Sindhudurga, and I was in class 12th that time. Gymming had become an obsession and so much so that it impacted my studies, and did not perform well at the academic front. My mother was very upset and dissuaded me to continue this sport, so much so that she removed all the posters of the icons in my room. I went into a sabattical for 3 days, without food and water and was grieved. However, Kishore Sir visited us, and explained things to my mother and also made me understand as to how I must strike a balance. THIS WAS THE TURNING POINT IN MY LIFE.
6. What was the motivation and how tough was this decision ?
My love for this sport and the strong passion combined with a belief in myself of never to give up. My main motivation towards this journey is only my dreams. The immense popularity of the athletes and the way they get adored by the fans, queuing up for selfies at Fitness Expo seemed very exciting to me, and I did want to achieve a name in this industry.
7. With so many deterrents you must have thought of giving up many times, what kept you motivated. Please elaborate on this phase of your journey ?
My journey has been very tough, and immensely learning. I started my job as a factory store keeper in a 9 to 9 shift at Vapi Daman. I had no time for workout, no such diet plan. I was working out only two days in a park, in a gym. My performance in job was very good, and I was transferred, to the Mumbai branch. One of my colleagues here advised me to apply for the job as a FITNESS TRAINER in the same company. I started that. Eventually, I joined a gym as a trainer in 2002, with a basic salary of Rs 2500/- . Meanwhile I had an injury, and was advised not to work out for about 3 months. My willpower was strong and I recovered much earlier and resumed my workout. I thought of empowering myself and also completed A course in PERSONAL TRAINER, from Andheri Mumbai ZAF fitness. I realized that this is an expensive sport, and I with my financial condition may not be able to pursue it, but I never gave up. I continued to put in the best of efforts.
8. Setbacks generally brings a lot of dilemma in one's mind, and one wants to give up. What kept you going? Your passion yes, but what are the other factors ?
Year 2005 very precious year in my journey. I am moved on my brother home for some reason he advised me every time very well my 1st Role model my Brother Dilip Dada, I living as A PG one place..
I am started job at EVOLVE FITNESS newly open management As a trainer Salary 4000..
But I am growing up here very fast lern all management lesson fitness as well sales. Slowly I started growing, and had the courage to start my own gym - MUSCLE AND MIGHT. I started in 2010. All thus while, life at the personal front was also on the right pace, and I settled and found a very caring and loving partner in my wife.
The second branch also opened in 2012, and with unflaggerring support of my wife and well wishers, this was a benchmark for me.
9. You have competed and won some of the most prestigious titles at the National Level. What does it take to be a winner ?
It takes immense dedication and hardwork to be a winner. I realized this myself, when I competed in BODYPOWER in 2014.I did not win at FITFACTOR, but the appreciation I got for my physique gave me the encouragement to enhance myself. Pro Athelete Maria Alsberb helped me in this journey.Finally I won my 1st competition in Men's physique - Mr. MAHARASHTRA
Hence, I never turned back…
10. What has been a major setback and how did you recover from that ?
Shutting down my gym and moving to Kohlapur in 2015, was a major setback for me, and it almost broke me. I had given up and was defeated. However, the stage competition and support from my wife, instilled the confidence in me to restart.
My wife asked me to go back to Mumbai and pursue my passion, while she would manage the gym at Kohlapur and take care of family. I had nothing in my hands and was contemplating suicide, but my wife stood by me like a pillar of strength and never let me give up.
I restarted, trained, also worked at TALWALKARS CHENNAI, and finally ….. I refused to give up ,I got on the stage, and competed.
I got chosen for the MR OLYMPIA at Hongkong, and worked hard.
I only had trust in God, and believe in self…..
11. How was the preparation for MR OLYMPIA, at Hongkong ?
God is great. Mr Gaurish of BTN approached me to be the brand ambassador, and sponsored my trip.I also got help from Mr. RAVI SINGH AND NEHA KOTHARI, my clients who trusted me and gave me the financial support to go ahead.
12. There is a certain fad amongst the youth to get in the field of Bodybuilding and win, and make a career out of it, irrespective of the knowledge of FITNESS. Please give your opinion ?
People have no idea about what to take up as a career in Fitness. Merely by winning competitions you cant make it big, you have have sound knowledge and education about this sport and only then you must make a career in this industry.Whether it is as a trainer, or as a gym owner, you need to have your basics right.Modelling or having a good physique is a different thing, and not related to making a career in this industry.
13. Any special people you would want to name, and acknowledge in your journey ?
MY PARENTS, MY WIFE, MY SON, and so many others I am indebted to…………
My Mother (Aai) Manorama Gawde, she has had unconditional love for me, she always taught me "Whatever comes in life, Don't Give Up and Stay Honest!!"
My Wife, Mrs Mansi Mangesh Gawde, who has stood by me through thick and thin, supported, managed, motivated me at every step in life, and my lovely child (Ganu) Pramansh Gawde for whom I'm a HERO!!
Guru Kishor Sonsurkar - immense knowledge about Bodybuilding, and I have huge respect for him.
My BROTHER DILIP GAWDE and Bhabhi Deepika Gawde
My first role model - Dada brother
Mrs. DHAREKAR MAM, Arjun Awardi, she is wife of Mr. DHAREKAR (POWER LIFTER )
Fitness trainer Corrier start From her Advice and my Life change
Evolve Fitness (All Team Members)
Gaurish Wadhavkar...BTN supplements Owner, I became a brand ambassador for BTN
Neha kothari And Ravi Singh.. These two people gave me the support and help I needed the most, and I am grateful to them forever.
Amrita Lohia - Yoga Girl
She's always been there for any kind of Profesional Discussion and advice
Dharmendar Sachdeva - Delhi – Hes been a big brother to me, Owner of Bigg Nutrition
Rohit Shahu – Owner of Team Muscle Mechanic
MAHESH RANE - Athlete from Mumbai,My Preparation Coach
Kiran keni - Owner Ken fitness Mumbai ,who advised me to take up competing professionally.
14. You are a role model for many . Please share a few intricacies of the industry as an insider ,that may be helpful to your followers ?
Work hard, and always keep finding ways to improve and grow. This will help you a lot in the industry.
15. Please give a message to the FitnessGuru READERS.
You all are fitness freak people that's why this magazine for you..
Firstly, congratulations and Thanks to reading my fitness passion journey.
MY MESSAGE TO ALL OF YOU
DON'T GIVE UP. DONT QUIT, FOLLOW YOUR PASSION OR HOBBY WITH BELIEVE AND ACHIEVE ATTITUDE... ONE DAY IS YOURS!
CELEBRATE FITNESS CELEBRATE LIFE!
16. From a small village , to a salary of 2000, and to a brand ambassador, international athlete, well recognized name and today AN APP in your name. HOW DOESIT FEEL ?
Immense gratitude and Thankfulness. Lots to do ………..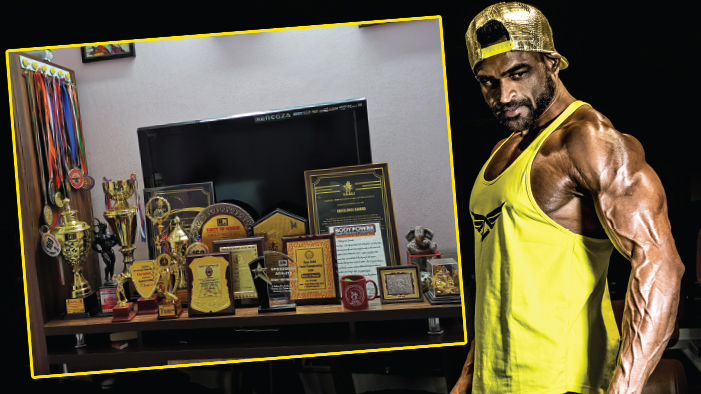 MY JOURNEY WOULD BE INCOMPLETE WITHOUT MENTIONING THESE NAMES :
Rohit Boda - SquatUp gym
Rahul Tendulkar-Fitness Manager software
Vikas Sharma - Proximlife
Jayendra Rane - Best Friend
Cratus Gym mumbai
Tabono Gym mumbai
YFC Gym mumbai
Smart Flex gym Mumbai
Trans Fitness Delhi
Chisel Gym Delhi
Sahil Malik delhi
Suresh Jain
Dhrue Mule and Piyush Solanki - Mumbai
Nilesh Parab and Shivdatta Sawant My childhood friend
ALPINO HEALTH FOOD
USI UNIVERSAL
Kishin Awatramani Director,
Rupani
Unmesh Mauskar
Khyati Rupani
Manoj Shah
Shruti Hardikar
ACHIEVEMENTS
Mr. MAHARASHTRA 2014 - TOP 4
MR.INDIA 2015 TOP 6
JERAI CLASSIC - TOP 4 Best Posing
MR. Olympia 2015 Hong Kong - Top 6
Mr.Mumbai 2016 Silver Medal
MR. WORLD - 2016
Top 6 Fitness Physique
and Top 7 Sports Physique
JERAI CLASSIC 2017 Muscle Model - Top 4
MR. MAHARASHTRA 2017 - TOP 4
Federation Cup 2017 - Top 5
Body power 2018 Best Physique
Fit line Classic 2018 Top 6
Mr.Mumbai 2018 -Top 3
Mr.Asia - 2018 Top 4
Mr.World 2018 - Gold Medal
Mr.Asia 2019 -Silver Medal and Overall open Top 4
BODY POWER EXPO 2019 -Demanding Guest Performance
IT GIVES US PLEASURE TO INFORM OUR DEAR READERS THAT MANGESH GAWDE is now on our panel as a qualified and renowned Trainer, and shall be sharing tips and much knowledge about FITNESS in the coming issues.
THE BREAKTHROUGH FITNESS APP
1. Congrats for the app. Before we go further, please give a brief introduction about yourself.
I have done my Masters in information technology at Robert Gordon University Aberdeen Scotland and then worked for three years in the digital entertainment industry. With the emerging of smart phones I saw an opportunity for the mobile content, hence started my business at the age of 26 in digital content. I have been successfully running the business for over 16 years and have made a multi-million dollar company. The company employs over 40 people we have branches in UK, Dubai and India. We cater to content in UK, Italy, Spain, Portugal, France, Germany, Norway, and Switzerland. Our content includes fitness education and yoga, celebrity games and online classes. Today the company is almost at the second position in the UK, and after successfully running the business in the UK, we have now opened the branch in Dubai.
2. What is it that triggered your interest in a FITNESS APP, and that too in India.
After successfully running my business in Europe, I noticed a huge demand for fitness in India. The new generation of India is very concerned about fitness, and is keen to spend on themselves as well as their fitness. However, there are many constraints and everybody can't afford a proper celebrity fitness trainer. I wanted to bridge this gap and thought of making it affordable for a common man by bringing the local celebrity fitness trainer to anyone. With a fraction of the price that one would pay to the trainer, he can get access to the training , and this can be done by subscribing the app. The User can interact with this personal trainer both off-line and online.
SOME SALIENT FEATURES OF THE APP :
It's not only a fitness app, but has lot of other key areas as its focus, and we provide Personalised plans and programs for boxing, Zumba, cooking etc. The idea is to get the use of the app in an interactive way, and pursue your passion and reach your dreams and goals.
3. What is your opinion of the fitness scenario in India? It's in a growing state and is expanding a lot. How do you plan to either contribute or create opportunity from this ?
Yes, definitely there is immense growth in the industry in India and I noticed the fitness industry is still a stage of infancy, with exponential growth opportunity. There is a big market to explore. Definitely, there is an opportunity to provide a good service to a common man, with quality content. The people in India are receptive and keen to learn. They are adapting to technology and a certain section of society values and looks for quality content. That is our USP, and we ensure that the best of the content is there for our clients.
4. A fitness app- very popular though, is still a largely unexplored vicinity. Why a Fitness APP ?
Although fitness apps are quite popular in India, I haven't seen an app that engages a customer with a celebrity fitness trainers. This is a unique idea, and this is what many people who are specially focused on their fitness goals are looking for. It not only engages the customer but also updates the results stats .It gives a detailed personal fitness plan and diet according to one's needs and keeping in mind one's lifestyle. Our efforts are towards giving a quality product at an affordable price. 24/7 availability and engaging with the user will make this app much useful to everyone.
5. GOAL FIT. Please elaborate.
FIT GOAL- An app which would like to stay out of the box. Goal. fit - an app that would make one's dream come true for a forfeit beach morning or a bikini body.
We have engaged top level, qualified personal trainers from all around India and the world to deliver best results to the customer.
I would aim to provide a quality education and fitness content for both men and women. This will be much beyond simply weight loss, weight gain and lifestyle programs. A detailed and personalised plan would be there according to the requirement of the user, and this is what makes the app unique and shall be the reason for its success.
6. Well, sounds very informative and interesting. Please tell us the work that goes behind making it a CUSTOMISED one.
There is immense effort and meticulous planning that goes behind making an app that will be customised for user. To begin with we have taken on board some of the best and most qualified trainers. Parallelly, for every domain, be it Cooking, Zumba or any other, we have experts who will engage with the users and provide solutions to their querries. This is only what a user can dream of, and Im surely confident of this.
Our experts have clear idea about catering to the demands of the users, and the users also get an insight into the workouts/diet/cooking/routines of their mentors.
7. Mangesh is a true achiever, and is renowned in this field. Any particular reason for your collaboration with Mangesh ?
Mangesh is a true achiever and is a self-made man. His dedication and perseverance is remarkable, and it is with his extreme determination that he has achieved so much, and carved a niche for himself at the international platform.
He has sound knowledge and his achievements at both the national and international level make him a true hero. It's been a pleasure collaborating with him, and we are definitely sure as well as proud of this.
8. Where can we know more about the app.
The APP will speak for itself, and we will have a launch and its reach on social media and various other platforms. You will read a lot about the APP here, in FITNESSGURU as well.
A heartfelt and Big thank you to - GOAL. FIT and Mr. RAVI METTA for reposing his trust in me and believing in me !! It means a lot to me!