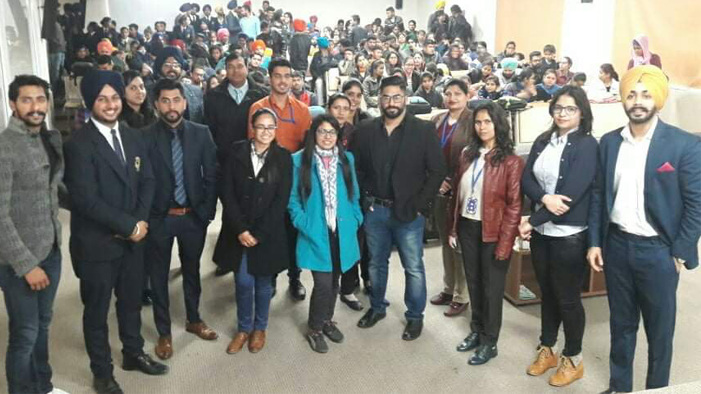 Well, sir , we take pride in featuring you on our cover and confer the title of Sir on behalf of the entire fitness industry!!
Conquer the WORLD ... Tamandeep Sir !
The aim of TFFA ?
To create fitness professionals who are very ethical, clear with the facts and ground rules. The professionals who don't believe in fads and shortcuts. They might choose their own path after certification, but the goal remains intact, i.e. FITDESH-MISSION to make masses fit
You started your career from gym management .Today you have launched TFFA. This is quite a noteworthy achievement and saying that you have come a long way, would not suffice. Please comment.
Long back, when I was into gym management, it was really hard to search for qualified trainers. At that time taking suggestions from any coach was like a shot in the dark. There was a need to cover this gap and slowly and steadily we reached this extent. Honestly, my career pathway is cultivated by almighty. Though, the journey was like a bumpy road, but I am grateful that almighty choose me for this.
What all courses do you offer at TFFA?
As of now we have two certification programs:
1. Sports Nutrition and transformation expert
2. ACE CPT
Other than that, we keep on conducting various fitness workshops time to time by many fitness influencers throughout the globe.
This industry is driven by passion, and you also started for this reason. How have you chosen the courses?
As mentioned above currently we are running two certification programs: Sports Nutrition and transformation expert & ACE CPT.
Sports Nutrition and transformation expert certification was designed after studying many courses and certifications. This course is not related only with bodybuilding or athletes. It is also designed for general population by educating them about the myths, how we can reverse many of the lifestyle disorders just by altering our lifestyle. We enable our students to educate the society on how food and nutrition can be used responsibly for a healthy life , rather than being dependent on medicines.
And talking about ACE CPT, American council on exercise certified personal trainer certification is from one of the esteemed American fitness organization covering and explaining muscle anatomy, kinesiology, training special population, assessments, safety of clients, educating trainers about their scope of practice and code of ethics in the best manner as it can be.
What do you keep in mind while looking for the faculty at TFFA ?
It is no secret that education has the power to change a life. An educator should not only have knowledge but, it should also have that spark and passion to transform someone's life. I always look for ethics towards his work as I always believe that "A Man without ethics is a Man without Spine"
What is the USP of TFFA ?
Team Forever Fitness Academy was launched with the vision to create the awareness in our society regarding the myths and misconceptions about nutrition and lifestyle. Being a Qualified Dietician, my intention and our USP is QUALITY AND ETHOS. We are educating our students on nutrition and lifestyle through latest studies and facts, providing ample of knowledge and busting myths by creating awareness. I don't believe in running back to back courses without giving personal attention. We don't run our certification programs with deadline of completion. We keep on conducting classes till the students don't have absolute clarity of concepts and knowledge about the field.
Even, our ex-students are allowed to join current classes anytime to refresh the curriculum.
You have courses that focus not only on FITNESS, BODYBUILDING AND MUSCLE ANATOMY, but you have ventured into the field of WELLNESS too? Why so?
Nowadays, fitness, bodybuilding and muscle anatomy is only considered for bodybuilders, athletes, fitness model etc; which actually covers very small percentage of population. Whereas, wellness industry is untouched and is being neglected. With today's lifestyle, majority of population is heading towards lifestyle diseases like Thyroid, Diabetes, Cholesterol, PCOS, Cancer and much more which can be reversed and can be controlled through Stress Management, Dietary Habits, Correct and Deep Breathing, lifestyle counselling, leaving sedentary lifestyle and improving sleep habits. So actually wellness industry is much wider and needs to be focussed on.
Why do you think that the trainers should have knowledge of general fitness and address issues such as DIABITIES, THYROID also?
With knowledge comes great responsibility. It is important to learn and work within your scope of practice. Its good to spread awareness about the importance of altering your lifestyle for overall wellbeing but trainers should never take such cases in their own hands. The code of ethics of each fitness professional whether he is a fitness trainer, a coach, dietician or a doctor, it should be clearly understood and applied in their work.
PLEASE GIVE AN ELABORATE MESSAGE FOR FITNESSGURU MAGAZINE
Fitness industry is as responsible as medical profession. Actually it goes parallel. The level of fitness professionals has to be increased so that general population should also develop a sense of trust towards them as they rely on medical professionals. Fitness guru is an excellent platform to showcase such qualified professionals who can change the scenario of Indian fitness industry.
The super successful TAMANDEEP NAGPAL, knopwn for his knowledge and humility, ventured into yet another field- CAFES !And as it is seen- he put his heart and soul into this and saw success here as well.
FITREAT ? HOW
Being from the fitness background and with the vision of FITDESH, my focus is always providing healthy food choices options which will help not only to transform one's body, but also alter their lifestyle. Fitreat is an initiative by me and my partner Gaganpreet Singh to bring a change in food industry by eliminating all the inflammatory and unhealthy ingredients and substitute it with superior and healthy ingredients, thus providing wholesome meals to the people, not compromising on taste or nutrition.
FITREAT ? WHEN & Why
FITREAT was inaugurated in December, 2018.
We found a major gap in general population and Healthy food. Either people were not aware about what to eat, or they were not able to find right choices. People consider healthy food as eating vegetables, boiled food, bland food or food without salt & fats. Hence the need, and hence the invention. We filled that gap and started with this concept catering to the clients as well as general population.
FITREAT ? EXPANSION PLANS
Vision is to open 10 outlets pan india by 2020. We have already locked couple of locations in Gujrat.
FITREAT ? CURRENT LOCATIONS
Currently we are serving through one restaurant in Ludhiana ,adjoining fitdesh office and forever nutrition store. With this concept we are able to fulfill clients fitness goals starting from fat loss or disease reversal in FITDESH to completing the gap of nutrition through supplements at FOREVER NUTRITION to creating awareness about healthy eating and correct food choices at Fitreat. In short all under one roof.
FITREAT ? FUTURE/TARGET LOCATIONS
Our target is to cover the metro cities and the cities where people are more aware about healthy lifestyle like Delhi, Noida, Pune, Gujrat, Gurgaon, Chandigarh and many more.
FITREAT ? MENU
We have taken care of food ingredients which help to maintain or improve the overall health. Starting from soups, till desserts we have tried to eliminate all the inflammatory or unhealthy ingredients. To alter the lifestyle, we altered the food items which can cause many chronic
diseases like thyroid, pcos/pcod, heart problems, diabetes, cholesterol, obesity and many other issues. In order to avoid any of such situations, fitreat has taken care of their recipes which not only provide adequate nutrition but also balance out the macros in best way it can be.
Our goal is to alter the lifestyle of Indian society by creating awareness on Lifestyle disorders and serving healthy food, which doesn't compromise on Taste as well.
FITREAT ? MENU CONSULTANCY IS BY A SPORTS NUTRITIONIST OR A NORMAL CHEF
Designing our menu was the biggest challenge during our project start up. It was a tough task to make our chef understand what our vision is and what kind of food we were looking for. The menu was designed by a highly qualified chef of oberoi's. Once the menu was designed, then came the role of our team of nutritionist. Each of our recipe's ingredients and its macros were minutely scanned and all the unhealthy ingredients were substituted with the healthy ones. Few of them are listed below:
•
Oil used for cooking: We use olive oil, ghee and butter for our cooking and Marinades to balance out the ratio of omega 3 and omega 6 and avoid Inflammation in body.
•
Multi grain flour: our pasta's, pizza base, indian breads, burger buns, Sandwich breads & cakes are made of multi grain flour.
•
Sweetness: sugar consumption is a major cause of many chronic diseases. At Fitreat, we have replaced sugars with stevia - a plant based sweetener & honey.
•
Dips and dressings: trans fat like mayonnaise, increases your risk of Developing heart disease and stroke. To avoid trans fat, we strictly prohibit the Usage of mayonnaise or any dressings made of refined oils. To be sure about Quality food, we therefore make our own in-house dips and dressings. Mayonnaise and dressings are replaced with yogurt dips to ensure Quality and health benefits.
•
Flavour and syrups: Instead of artificial flavours and syrups we use real fruits.
FITREAT ? AGENDA
Healthy food begins with quality of ingredients, style of cooking and proportion of all macros (carbohydrates, proteins and fats). Many of the restaurants claim their food to be healthy but the ground reality is contradictory. If you ask them about the ingredients than you find the truth. Being a dietician and having group of nutritionists as team, we are confident with what we are serving with proper research .This is our little step towards making our country fit.
FITREAT ? PROMOTING HEALTHY FOOD-TASTY TOO ?
Healthy food is always considered as boiled, tasteless and bland food. To change the mind frame, fitreat came up as a multi cuisine restaurant serving indian, Chinese, Japanese, Italian, continental etc with the fusion of health. All the recipes are revised with the touch of health and all the harmful ingredients are eliminated from the recipes. For example: the sauces like mayonnaise commonly used in sandwiches and burgers are replaced with inhouse dips made from yoghurt, mint etc which is not only good on your palate but for your health too.
FITREAT ? MAINTAINENCE/HYGIENE STANDARDS
Transparency and authenticity in business is always the best way to gain trust of clients. A customer should have trust on a brand. To build that we have hired the most qualified team of professionals starting from kitchen to service team. Our guests are free to visit our kitchen whenever they want to, to be sure about the hygiene standards. Once its open for all, there is no chance of misleading, cheating or unhygienic food.
FITREAT ? FRANCHISE MODEL ?
Fitreat ,started In Ludhiana with 60 covers. We not only cater in-house dining but are also covering corporates, industries, offices for their staff meal planning. For Business Promotion, Fitreat never uses cheap marketing strategies and compromises on quality. The amount of carbohydrates, proteins, fats and calories present in each meal are mentioned on menu. Healthy food is a future of food industry and we feel very proud that we are taking this initiative. Combined with the vision of Fitdesh, we don't want to be limited to one city and our Goal is to open 10 outlets by 2020, by promoting health, fitness and ethics.
FITREAT ? PRICING
Food at fitreat is much economical if we compare it with the quality of food and ambience we are offering. We have tried to create a win win situation for our guests as well as our restaurant.
MESSAGE FOR YOUNG ENTREPRENEURS
The future of our country is in the hands of young generation. They should not be looking for shortcuts for easy money through cheap strategies, rather Their intention and their being should be authentic towards their work. Through the sense of responsibility, ethics and hardwork together we can change the scenario.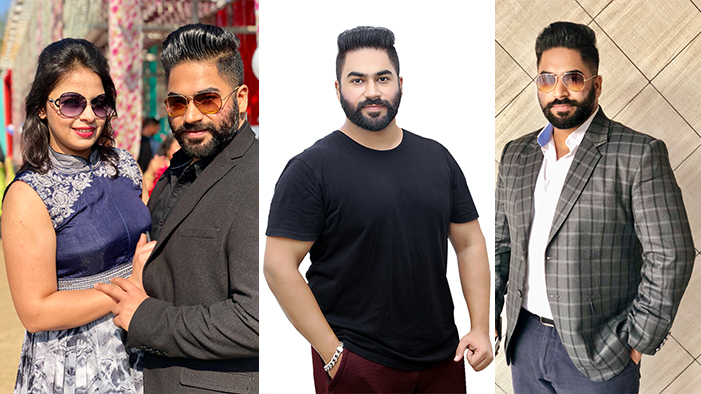 1. You have expanded in various directions, and your strength is in education. But excelling in everything seems to be a habit with you. What gave you the idea of starting FOREVER NUTRITION ?
There were two main ideas which led to generation of our venture Forever Nutrition:
1. Vanishing the Fake Supplement Market from India.
2. Selling the products ethically to the customers by counselling them best for their fitness goals.
We are serving fitness industry with 3 outlets of Forever Nutrition & many more to come!
2. How was your experience of GYM MANAGEMENT leading you towards supplement trading ?
Well, supplements are still a taboo in Indian society, and I never wanted to be labelled as supplement seller. At our stores also, we don't focus on selling bulk of products. We always go through client's requirement and suggest nutrition supplements which are missing from their diet, and are needed to enhance their fitness, and hence have a positive impact on the productivity in one's life.
3. There has been a major issue of ORIGINALITY in the supplements industry. How did you manage this issue ?
ORGINALITY and ETHICS were the main reasons why we started. When I started my career as a floor manager, I observed a lot of trainers selling the supplements to the clients, irrespective of the genuine need or the quality of the product. It was a basic mercenary need that the clients would be sold any product that offered a bigger margin to the seller. This was a very disturbing thing for me, and this was the actual reason why we started.
I got into depth of it and reached to the units who were making duplicate products in region. I was courageous and filed complaint against such units. Surprisingly such products are not sold over the counter at stores with the fear of compliances. FSSAI and Drug department is very active around, and keep a very close check. These products are being sold to their target clients who are generally the beginners who are new in fitness journey, and are unaware about authenticity,and succumb to such unprofessional behaviour. With my years of experience, I can easily understand and identify this, and I also keep making informative and knowledge sharing videos for this.
4. Who is your major clientele ?
We have developed very loyal clientele PAN India, through our online portals and stores. Our clients include a wide canvas of professionals and students, doctors, fitness professionals, coaches, gym owners, dieticians, sports persons.
5.Are you loyal to any single brand, or host a kitty of all brands in FOREVER NUTRITION ?
We deal in various brands like ON, BSN, Muscletech, Ultimate Nutrition and many more to meet the demand and preferences of our customer. But I do have my own brand named as TEAM FOREVER which is equally good in terms of bio availability, protein quality, aminos profile etc. And much more pocket friendly to the clients as compared to the international brands.
6. Amongst sports nutrition, which are the most popular products used by people, or in demand ?
Many products are hyped in the market these days which are absolutely non-essential and are not required for the fitness goals. Our supplement recommendations are purely according to clients nutritional deficiencies, fitness goals or body needs.
Yet if I talk about the supplements which are actually useful for well being or which help to achieve fitness goals are Whey protein, Multi vitamins, Omega 3, Citrulline or Arginine, ZMA and liver protectors.
7. You have stores catering to north India, and cities of Punjab and Haryana. Which are the most popular brands that are always in demand ?
Optimum Nutrition & Muscle Tech are leading International Brands people ask for, everywhere. But, at fastest selling & customer satisfaction point of view, Team Forever has had a long chain of committed customers due to pocket friendly products with premium ingredients imported from USA.
Team Forever, ON & MuscleTech are the most demanding brands at our stores!
8. How is it to deal with the distributors and the clients both, as you are having experiences from both the sides of the table ?
Dealing with the distributors is an easy task as compared to dealing with clients! Distributors don't ask much about the products as they are traders not the consumers. The distributors are keen to know the demand and popularity of products and are interested in their revenue. At the other side we need to counsel the client so that we can suggest best supplementation for their fitness goals; and this takes time, patience & knowledge. We invest in our clients, and that is an integral part of our business. At our stores, our representatives are Experienced Certified Nutritionist who give the best advice and best guidance to our clients.
9. FOREVER NUTRITION started a DISTRIBUTION NETWORK, and provided an earning opportunity to many people in the loop. What was the idea behind this ?
As mentioned above, forever nutrition is having its own brand named as team forever. The vision behind Team Forever was to provide a genuine product at a pocket friendly price which can help general population in completing its micro and macro nutrition. The idea is to expand our hands through the common man, or the local player who has clear intentions and a will to earn and grow.
10. As a businessman, you are seen to honor even a small investor, or anyone who wants to start his own business/shop/store. What is the reason for such a compassionate attitude ?
Everyone needs and deserves a chance to grow. I still remember my initial struggling days, when a small investor wasn't entertained much or was not given much of an opportunity. This wasn't very pleasant for me as I believe that everyone should be given an opportunity to grow and earn.
Another idea was to completely vanish the fake supplement market from India; providing entrepreneurship and self-employment opportunities; along with the correct guidance and awareness for supplements to the masses.This was my AIM.
Together we will achieve, we will work as a team!
11. Please give all the store names and location, with email ids, and phone numbers ?
Forever nutrition is currently serving through 3 outlets, but with the grace of almighty we will be having many more throughout India.
1. Forever Nutrition 102 model gram Near malwa school Ludhiana Email I'd: teamforever.fitness@gmail.com Phone : +91-7528804444 (Harsimran Singh)
2. Forever Nutrition 32 sec , Chandigarh road, Adjoining minute Carlo showroom, Ludhiana Email I'd: forevernutritionindia@gmail.com Phone: +91- 9914128166 (Lovish Saini)
3. Forever Nutrition Ranjit tower, pakhowal road Ludhiana Email I'd : forevernutritionindia@gmail.com Phone : +91-7528804444 (Harsimran Singh)
As it is said - the strength of a man is in the woman he chooses , so rightly true here . Ms Jashan has been a pillar of support and strength for Tamandeep Sir .
We wish the couple a lot of togetherness and success!!!
In the words of Tamandeep Sir:
"Jashan has always been my strength throughout , in my thick and thin, in my highs and lows! She is backbone of who I am today.
I owe the success and initiations of all my ventures to her, and it wouldn't not have been possible for me to come this far! Yes - for every successful man there is a woman behind him - Jashan is the one in my case.
I just want to say that No words can express my love gratitude for her.
I know, together we will make the rest of our life the best of our life!"