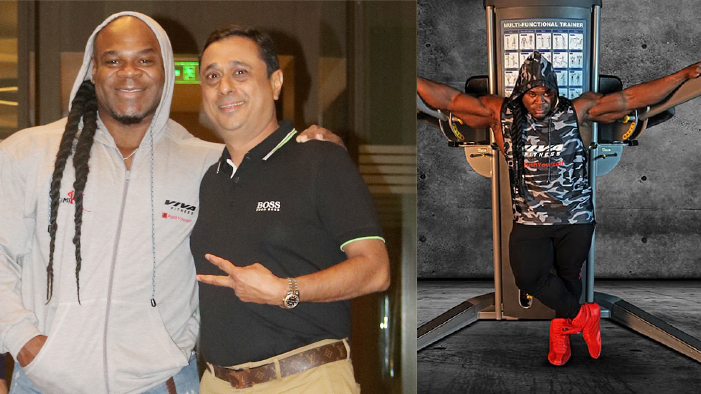 1. Since when have you been into the business of sports equipment ?
My father Shri Pran Nath Gupta started company Soccer International in the year 1976 with manufacturing and exports of soccer balls. I joined the business at the age of 22 in the year 1994.
2. How did you diversify from sports to fitness ?
As it is rightly said that necessity is the mother of invention. Back in 2006 my family members had some fitness concerns, so we started looking for latest fitness equipment in local market. We bought one treadmill which was not up-to the mark and it had regular maintenance issues. From that day onwards, I decided to develop a new range of equipment which would give no-nonsense service to the customer.
3. VIVA FITNESS offers world class fitness equipment to people around the country and is a leading brand and a name to reckon with. How much time did you take to reach here, and sustain this steady position for years ?
We started developing a flawless equipment in the year 2006, so far 13 years and I believe we have much more to improve and accomplish.
4. What is the strategy to identify the needs of the customer, here in India, as the demography and requirements vary from each area ?
To understand the needs of the customer, we give a fair hearing to all our customers and value their inputs. Then we discuss the concerns in our expert panel of professional athletes, engineers and biomechanics who are pioneers of Indian fitness industry. That's how we come out with most relevant and apt solutions.
5. During the years that you started, there was much difficulty in many aspects, including the transportation. Can you please share few such experiences, and how did you overcome those ?
Yes logistics has been a major issue for many years. Transporting such a heavy machinery takes a lot of expertise and it requires a lot of care too. Roads in India are still not smooth So we have developed shock proof packaging specially for our cardio equipment that has lot of electronic and digital components.
6. Which all areas do you cater to ?
First of all we are proud suppliers to Indian Army, Navy and Air-force, various other Indian armed forces, hospitals, builders with multiple housing projects, some of the prestigious 5 star hotels are done by us besides gym chains and stand-alone gyms. Our wide home range caters to all domestic users.
7. VIVA FITNESS is spread all over India, and covers a wide canvas, from the north east, to down south, and the center as well. How did you widen your network, and cater to the far off areas such as the Imphal, to Kutch, to other remote parts of the country ?
India is huge market and by and large we have the biggest team to address to customer's requirements Pan India. We have over 100 business partners which are spread in all major cities including tier 2 and 3 cities are also covered by us extensively. We always keep looking for likeminded business partners nation-wide. All these partners have qualified team of engineers who are trained in our head office for after sales service.
8. Which are the most sought-after machines for gyms, other than the tread mills, and cross trainers ?
These days in cardio, Stepmills & Rowers are quite high in demand and scene at strength range has totally changed as Indian users have raised their expectations to new levels. In order to fulfil those expectations, we are bringing a new International Brand/Range at IHFF Mumbai show in November.
9. Please tell us about your association with KAI GREENE, and the equation of VIVA FITNESS and DYNAMIK GYMS ?
We fondly call Kai Greene as King Kai and he is a thorough gentleman. It is always exceptionally pleasant to work with him and his team. Our association has entered 3rd year and he is more of a family than just a business partner. He is a dynamite of knowledge in his field and has a huge fan following in India. Keeping that in mind, we have launched prestigious Dynamik Gyms in collaboration with his company. I am sure these Gyms shall prove to be finest centers in India for not only professional body builders but also general people seeking fitter life.
10. Fitness as an occupation and gymming is very popular in Punjab. Based in Jalandhar, you are in the hub of activities. Any particular reason of the people for the interest ?
Punjabi are basically a martial race and mainly north-western states always faced the invaders first, that made local people physically stronger and ready for eventual times. So probably from those genes, people took gymming so heavily and with great interest.
11. You have been passionate towards fitness industry and are renowned in the industry. What has brought you to this respectable position ?
I think one's positive growth depends upon his positive approach and mindset. We at Viva Fitness always believe in horizontal growth, for us which means growth of all business partners along with our growth. Guess that replies your question.
12. What is the basic BUSINESS MANTRA that you follow ?
I take one day at a time. Every morning I get up and make it a point to contribute to the industry in some way or the other. Believe me in last 13 years I have not taken even a single day off. I am reachable to my core team even on Sundays. Business scenerio is very dynamic these days, so I believe in relentless efforts. And above all I enjoy working…
13. Catering to the specific needs of the customers and customizing gym machinery is a very unique concept. Can you please elaborate on this? Is this your USP ?
Yes customizing equipment for various customers is a new trend which we have started in the market. We are customizing cardio and strength range as per customer's required color combination/ space available and usage.
14. You are currently the president of TASGPEE, what efforts are you taking to maintain the integrity and harmony of the group ?
Yes the fitness fraternity has given me a responsibility to take the interests of the industry ahead. Our fraternity is closely coordinated and well informed about each other. We are currently trying to make this association bigger by bringing in more member from all parts of India so that our voice is not ignored when we have any concerns with Ministry of Industry and Ministry of Finance for the betterment.
15. You have been a noted player at the major fitness expos in the country. What is your opinion of the expos ?
I always use to get impressed visiting International Expos in USA and Europe until few years back Indian expos were not of same level. But now we have really good health and fitness expos in India. We are regularly participating in IHFF and also we are the Platinum Sponsors for Fit Expo to be held at Kolkotta in December, which is the biggest show for eastern India.
16. The fitness industry has seen a lot of change, and a lot of growth in all aspects. How has it impacted the business dealers ?
Indian market is growing at a good pace and there is big change in general lifestyle of Indians lately. Now people are taking up fitness more seriously and regularly. As I said we firmly believe in horizontal growth when it comes to our business partners/dealers. As industry grows we all grow together and we look forward taking our business relationships ahead with similar aspirations.
17. What is it, that makes VIVAFITNESS different from its competitors ?
We do not consider other players in the market as our competitors, I believe we all are part of the extended family and we are trying to cater to diversified Indian market. Various companies are selling equipment just to make money even they don't hesitate to sell something which is not safe for our joints and muscles. Mainly their focus is on the aesthetics of the machine. That is not the case with us, when we develop any new machine, we keep safety of the user first in our mind and then the aesthetics come second.
18. Please give a message for the readers of FITNESSGURU ?
FitnessGuru is a wonderful magazine and I regularly read it. It brings the best and the latest news to us. Also I would like to request all readers to mark the dates of IHFF Mumbai 15-17 November and be the part of our 2020 range launch with Kai Greene. See You!