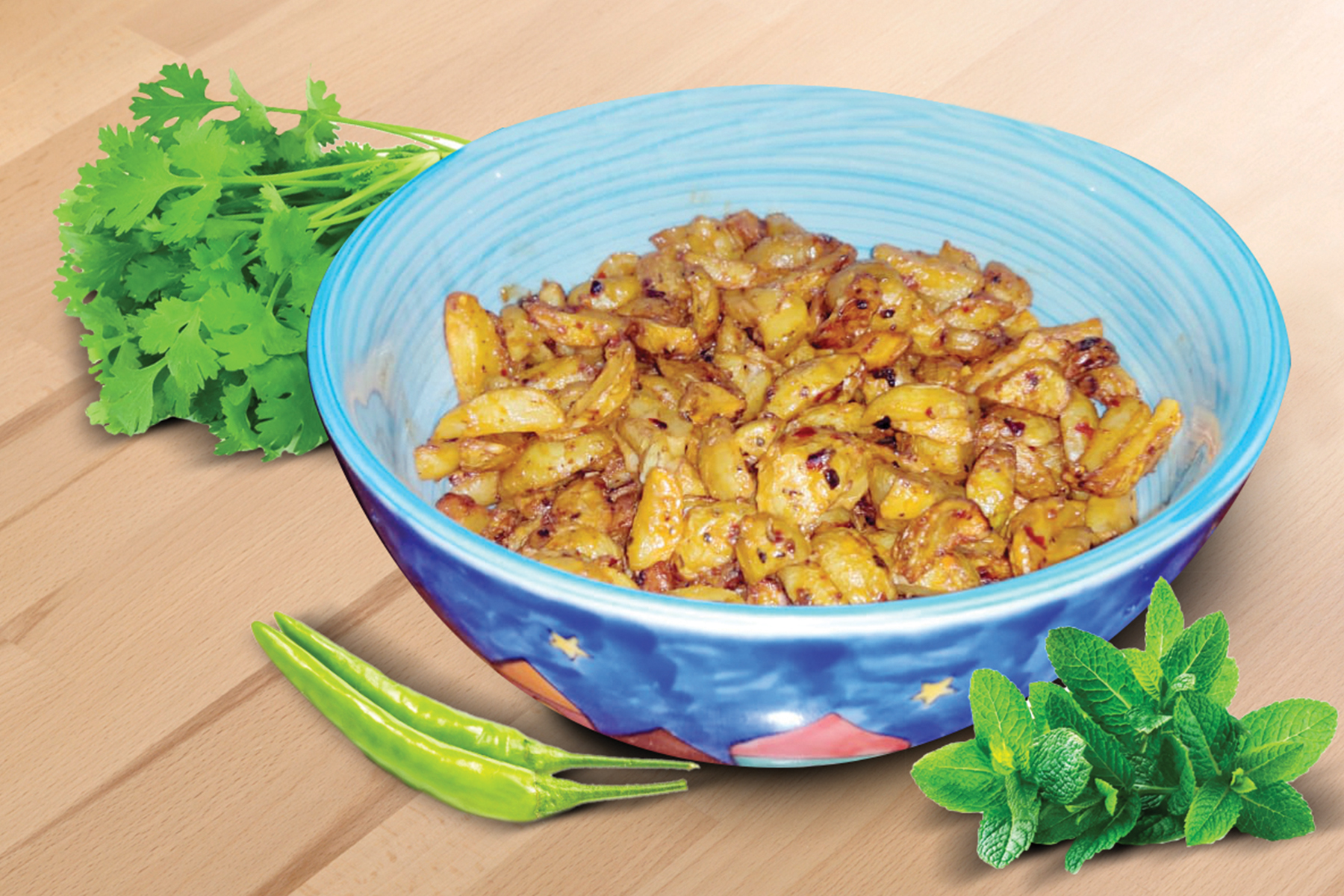 Having tried her hands-on various cuisines, she particularly is fond of morocco cuisine. With an avid interest in creating new recipes, she probably had more fondness and knowledge about MOROCCON ingredients than toys. Khushi will be pursuing CULINARY ARTS and is sure to make it big as a Chef.
A passionate cook, an avid reader and a brilliant student, it is cooking that gives her "unparalled happiness"! We wish her all the best for a wonderful journey ahead!!
BAKED POTATO SALAD
Prep time: 30 mins
Cooking time: 30 mins
INGREDIENTS
1. Baby potatoes ( 1bag or according to your need)
2. Keya/Only ALL PURPOSE SEASONING
3. Garlic powder
4. Olive oil
5. Black pepper
6. Salt
7. Sriracha chilli sauce (you might use any other strong chilli sauce)
8. Mayonnaise
9. Spring onion (finely diced and chopped)
PROCEDURE
1.
Wash the baby potatoes, for this you may soak them in water for about 2-3 minutes and then rinse them.
2.
Cut all the potaoes into 2 halves.
3.
Transfer all the potaoes into a large bowl.
4.
Add 2 tbsp olive oil, 2 tbsp all purpose seasoning, 1tsp black pepper, salt to taste.
5.
Add the garlic, until you can smell the strong aroma of garlic.
6.
Mix all the ingredients and the potatoes together.
7.
Microwave the potatoes for about 5-8 minutes.
8.
Your potatoes should have softened till this time, next bake the potatoes in the oven for about 20 minutes, so that they are crisp. You may pan fry them as well, just make sure that they are crisp.
9.
In a fresh bowl, add 1tbsp mayonnaise 1tbsp chilli sauce Sriracha or any other you chose to use.
10.
Once the potatoes are crisp, add your mayo and chilli sauce paste, along with the chopped spring onions.
Your baked potato salad is Ready.