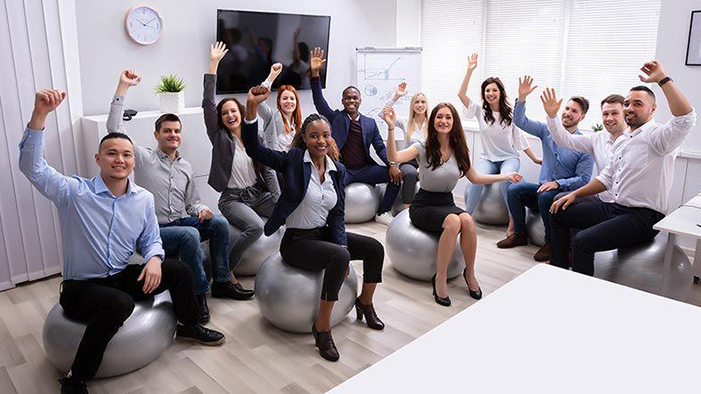 A corporate worker spends on an average 12-14 hours in either a desk job/presentations/meetings and travel, and is constantly in pursuit of excellence, and is bound by his work deadlines. The overall health of an individual in such a work atmosphere suffers and so does the fitness.
Today's corporate leaders appear to now understand the inherent value of a healthy workforce, and they seem ready to support initiatives that help them achieve that goal.
FITNESS is extremely important for everyone and many companies are now investing in the health and fitness of their employees. A general increase in ROI by 30% is observed, when companies invest in Fitness. Executives at both large and small companies are now thinking alike when it comes to their employees' health and wellness. Even during the recent economic slowdown, corporate fitness and wellness programs survived relatively unscathed as more employers realize that an investment now in these programs could pay off later.
The preventive measures need to be taken at the right time, otherwise, the curative measures will be much more expensive and may lead to irreparable damage.
A stressfree environment always leads to better work conditions and increases the productivity of the employees. It is imperative for the organization to give importance to the fitness level of the workers as such an atmosphere will improve the overall performance of the employees.
Regular fitness activities and a mandatory care of the health benefits an organization in multiple ways.
A marked difference and a positive change is noticed in the performance of the employees in the organization that invests in the health of its employees.
The rest of the business world is now accepting what those in the fitness industry have known and believed in for years: Healthy and fit individuals generally need fewer health care services, log fewer missed work days and are more productive when they are at work. This has led to an increase in the number of companies that inculcate a health and fitness program for their employees.
The reality is that the health and well-being of the people in a business is paramount to its success.
The History of Corporate Fitness
Do you know what the first recognized corporate wellness program was?
"In 1979 American pharmaceutical and medical device company Johson and Johson began it is Live for Life program. This initiative aimed to control risk behaviors relating to stress, weight control, and nutrition. Assessments were carried out to figure out each person's activity levels, and individual employee programs were created. While there were versions of employee fitness programs in previous years, Live for Life is seen as the blueprint for the modern wellness programs in today's corporate America.
A basic awareness about fitness, encouraging fitness activities and a practical knowhow about how to eat right is the trend and many corporates are trying to have that in their schedules.
Today tech giants like Google, Apple, and Linkedin emphasize wellness. Walk inside one of their many offices around the world, and you will find wellness services available for the employees."
Inncorporating fitness activities has manifold benefits. Exercising has several benefits, and even a small twenty-minute workout can rejuvenate your lungs, sharpen your mind and energize your body. All of these things combine to lift a person's mood, and one works with more efficiency. Apply this efficiency to all employees, and you will notice that a company will start running like a well-oiled machine that always produces excellent results.
•
Healthcare Costs Lowered
•
Fitness Improves Team Work
FINERGY SERVE PVT LTD, has a wonderful CORPORATE WELLNESS PROGRAM.
The HEALTH DAY FOR CORPORATES is also a very successful running model.
Visit www.finergyserve.com