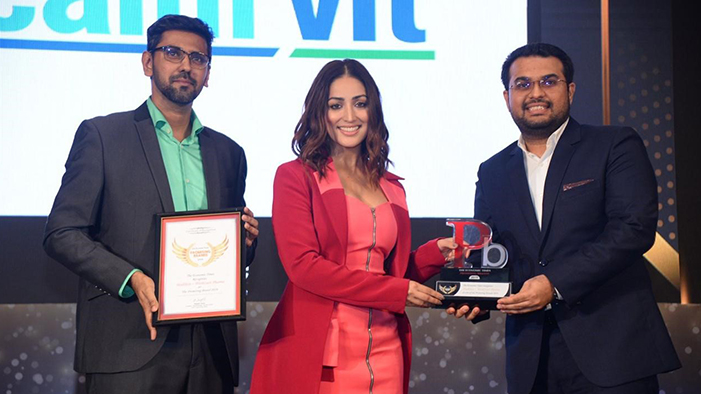 As a CEO what does your day look like ?
As a CEO, I try to give my all efforts and give all required information to my team to make work reach effectively and accurately. I believe in team work, so I take decisions with my team, get ideas, and suggestions from the team.
What's your company mission ?
Our mission is to revolutionize healthcare and make healthcare system more prevention based then treatment based. Healthvit products were created from a simple idea: we set out to deliver something no one has done before and believed that with enough hard work and innovative products we can do our part for healthy living of mankind.
Can you tell us about your products & how you promote your products ?
We have more than 700 product range which we sell on Healthvit.com, Amazon, Flipkart, Nykaa, and Healthkart and on other e-commerce websites. Ranked in top 5 brands in India. We have different category like Vitamins & Minerals, Fitness & Protein, Beauty/Cosmetics, and Herbal etc.
We are promoting our brand through various methods like social media promotion, Facebook, Instagram, Youtube, Google Adwords, Search ads, Display ads, PPC, SEO, SMS/E-mailer, Whatsapp and Bloggers.
How is the quality maintained ?
We have an In House Research & Development Team. Tried, Tested Ingredients used in the formulation. Each ingredient is quality checked in an ISO GLP Certified Lab. We have In House Quality Assurance & Quality Check Team makes sure each product is manufactured as per the R&D done. Every Product manufactured is quality checked, approved and released only after Approved by ISO GLP Lab. We have different quality certificates like AGSI, WHO GMP, ISO, FSSAI etc.
How frequently does the company launch new products ?
Product Launches to be done every quarter by launching new categories as per the R&D schedule.
To be a market leader in Online channels is our USP with Product Categories within 1 year of its launch
Do you personally use/consume your products ?
Yes, every Day I consume Cenvitan men & Other Fitness products, also I use personal care products of Healthvit.
Can you tell us about your Healthvit team ?
Sure, without my team, I'm nothing. Earlier I mentioned that I believe in team work, we have experienced Teams in different departments & all are doing outstanding work.
There are so many brands around who selling same products like you, do you feel that those brand affect customer's mindset ?
I think it affects on customer's mindset, because everyone tries to capture more market. But customer always try different things, because they want value of their money from products/brand. At the end of day, it is their call to decide which product or brand they want to purchase.
How you felt when you received "The Most Promising Brand (Nutrition Category)" Award ?
Actually I was nervous that time when announcer start to announc this award. Finally when I heard Healthvit name as "The Most Promising Brand (The Nutrition Category)", & I received award, I felt proud & expressed gratitude to my family who always supported me, my entire Healthvit team and everyone who made this possible.
Can you tell us your future goals ?
Our future goals are simple & sharp, providing best quality products, value & build trust on customers mind. We want to Became India's Leading Herbo-Nutra Company.