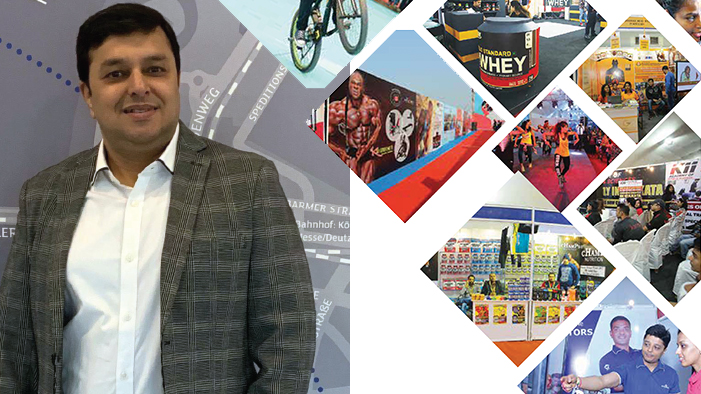 The FITEXPO, is an initiative of Industry leader Mr Gagan Sachdev, who is also the Chief Convener of The FitExpo which today stands to be a big show, not only in terms of an expo but in true sense of the word. With a huge number of sponsors, exhibitors, partners, athletes, experts, professionals from all over the country, and the who's who of the industry, the three day saga promises to be the most energetic, and happening show of the country.
It wouldn't be incorrect to say that THE FITEXPO is positioned as the event of the country and is not restricted to the eastern side only.
It was also the winner of the coveted 'Best Debutant Expo' Award in the country.
This Mega Trade Show is all set to provide a tremendous opportunity to all the stakeholders in India to claim their rightful place on the National scene and thus broaden the opportunities & scope for business development.
The event is going to be giving the opportunity for the biggest combined trade platform in the region.
FEATURES
•
3-Day Exhibition on Fitness, Wellness & Sports Products, Services & Accessories covering an area of 1,50,000 sq.ft
•
40,000+ expected visitors offering unique networking opportunity
•
Live Shows, Demonstrations & Product launches on Fitness, Sports & Wellness
•
Multiple Fitness & Sports Competitions & Awards
•
Innovative Fitness formats like Zumba, Power Yoga, Functional Training, Martial Arts, etc
•
Action Arenas & Experience Zones
•
Corporate Business Lounge
•
Vitafoods (Healthy Eating)
•
Exclusive B2B timings & Business lounge to facilitate business deals with Pre-invited Dealers and Distributors
•
Presence of Associations, Institutions, Corporates & Government Bodies
SANGRAM CLASSIC CHAMPIONSHIP at THE FITEXPO
For the frenzy of activities, and to keep the competitive spirit alive, THE FITEXPO has partnered with SANGRAM CLASSIC CHAMPIONSHIP - to provide a genuine and unbiased platform to the athletes with a plethora of championships.
The Fit Expo India 2019 is going to host one of the most prestigious Bodybuilding & Physique Championships of the Country. The Bodybuilding Icon of the Nation - 2 times Mr. Universe Champion, 6 times Mr. India & 5 times Mr. Maharashtra - The One & Only Sangram Chougule is going to organize his signature event Sangram Classic 2019 at The Fit Expo India 2019.
Sangram classic Championship, a platform for all aspiring athletes who have genuine love and respect for fitness and bodybuilding.
It's a non-federal, Champion hunt competition, where no federation champion or national/ international medal /position holder of a similar platform can participate.
The idea is to motivate and boost confidence in young guns of bodybuilding in India.
A bigger and better show with well-organized stage, unbiased genuine jury board and well-appreciated athletes with cash prizes and tokens of appreciation.
ATHLETES ARE WELCOME !
• ARRAY OF COMPETITIONS
• FITATHON - Run for yourself
• Arm wrestling
• Crossfit
• Functional Training
• Sangram Classic
Other Martial Arts
• Taekwondo
• K1 - Low kick
• Jujitsu
• Kickboxing
• Kyokushinkai Karate
RURAL SPORTS
• Kho-Kho
• Kabaddi
• Volleyball
• Throwball
Others:
1. Kickboxing
2. Grappling
3. Full contact Karate
4. Traditional Karate
5. Wushu
6. Boxing
7. Taekwondo
8. Fencing
9. Hapkido
10. Kung-fu
11. Martial Arts based Fitness
MUCH MORE THAN AN 'EXPO'
A golden chance for the fitness business players to showcase and network with the target fraternity and to rub shoulders with the industry stalwarts and for networking amongst the 'Who's Who' as well as to showcase their products, services and obtain feedback.
Numerous international and national brands as well as sports & fitness stars have associated with THEFITEXPO INDIA the perfect 'value for money' platform for showcasing their products and enhancing brand visibility. A great way to build relationships, make sales and gather relevant leads.
Says Mr Gagan Sachdev - 'THE FITEXPO is not merely an expo it's a dream come true, that has been nurtured with extreme passion and hardwork. It has taken a long time to build this and turn this vision into reality. THE FITEXPO, is not only a business for me and my team, it is my way of giving it back to the society- with gratitude and with all my might. I have built some very beautiful relationships and had some tough learnings, and God has suitably rewarded everytime by making THE FIT EXPO bigger and better each season. I surely will make it a PAN INDIA EVENT. And, yes, it's been a herculean task to bring all the business, and sports and athletes under one umbrella. I was determined to make this happen, and have been persistently working towards this. I even look into the minutest details. Yes, I have a wonderful team who understands my vision and executes it as well, but I look into the micro management and ensure that things are working smooth. This year it's going to be a bigger and a wonderful event, and I'm already thankful to all the supporters and patrons.
HONOURING SHE POWER
Acknowledging female power and recognizing their talent is a very unique and nobel cause.
We truly appreciate the women who have had phenomenal achievements in the field of Fitness.
This year's FitExpo will be awarding 'SHE POWER' – women who have excelled in the Sports & Fitness Industry.
This edition of The FitExpo India also has the support of various institutions and government bodies like National Small Industries Corporation Limited (NSIC Ltd), Ministry of Micro, Small & Medium Enterprises (MSME), Calcutta Sports Dealers Association (CSDA), The Sports and Toys Exporters Association (SPORTTX), Sports Goods Export Promotion Council (SGEPC)
Also, Leslie Kai Greene, known professionally as The Kai Greene - The One & Only American IFBB professional bodybuilder - Mr. Olympia Runners Up 2012, 2013, and 2014 + Arnold Classic 2009 - 2010 & 2016 is Coming to The Fit Expo India 2019 on 8th December 2019 & had confirmed that He is going to do something very special on the Stage for the first time after a long gap.
The Fitexpo 2019 Sponsors confirmed till date:-
•
PLATINUM SPONSOR - VIVA FITNESS
•
GOLD SPONSOR - BODYLINE SPORTS
•
CO-SPONSORS - Anytime Fitness, Cougar
The Fitexpo 2019 Partners confirmed till date:-
•
PRINT MEDIA PARTNER - T2
•
RADIO PARTNER - 91.9 FRIENDS FM
•
FITNESS MAGAZINE PARTNER - KRUNCH
•
SPORTS MAGAZINE PARTNER - SPORTS BUSINESS INSIGHTS
•
FITNESS MAGAZINE PARTNER - FITNESS GURU
•
EDUCATION PARTNER - K 11
•
SMART PARTNER - National Institute of Fitness Studies
•
RETAIL MAGAZINE PARTNER - INDULGE
•
CHANNEL PARTNER - Siti Events
•
TRAVEL PARTNER - Vensimals
•
FRAGRANCE PARTNER - Manipura Ayurveda
•
SPORTS MANAGEMENT PARTNER - IDEAS Sports Management
•
TECHNOLOGY PARTNER - One X Solutions
•
ENERGY DRINK PARTNER - Redbull
WATCH OUT THIS SPACE FOR MORE..