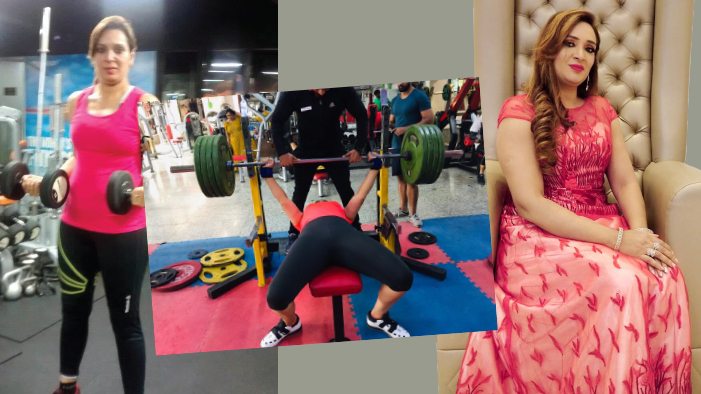 1. How did it all begin…please talk about your journey from where you started ?
My introduction to Fitness was actually accidental, and it all started with an illness.
One fine day I was diagnosed with chickengunya,way back In 2010. The kind of weakness I developed and the pain and fever I had to go through , made me feel extremely helpless. Being a mother of a small 4 year old child, and with a whole lot of responsibilities as a home maker,this was a nightmare for me.
It was then that I realized the role and importance of fitness and nutrition. I decided to take control of my life, and made sure to inculcate exercise in my daily routine, and started with a home based routine initially.
2. What was the home based routine that you started ?
As I was completely alien to the concept of fitness, I started by buying a famous DVD at home, and also I bought few 1 kg dumbells and practiced the 20 minutes warm up for 3 months, successfully completed it. Again I did the advanced workout of the same DVD in another 4-5 months, so it took me nearly an year to do both the warm up and the advanced workout together. Lifting a 2 KG dumbbell at that time felt like a huge achievement for me as I had lost all hopes. It was sheer will and Im glad I did not give up.
3. Your fitness journey Began in 2011 and today you have become a Champion, a winner, a renowned name in the fitness industry . Pls elaborate ?
I started gymming in 2012 after practicing the DVD at home . I started with weight training, and my passion for lifting began . I remember when I progressed to benchpress on self , the whole gym gathered around me . Even the men folk smiled and maybe mocked too,but I did not give up.
4. How did you get into professional FITNESS ?
My trainer once suggested me to pursue a course in Nutrition, as I was very interested in it.
I completed ACE-CPT, with meritorious results, and pursued many certifications here after.
As an athlete, I met Sanjeev Bhatnagar (GYmpex ) and Neeraj Chawla sir in RDX Gym and Spa, Sector 9, Rohini, who motivated me to join powerlifting. After almost 2 years under his training and guidance, here I am standing tall with winning many state , National level and International Victories, the most recent being -Commonwealth Powerlifting and Benchpress Championship, held at St Johns, New Foundland and Labrador, Canada from 15th to 21st September 201.
5. You were a home maker for a good many years. How all of a sudden you got the idea of joining the Fitness Industry ?
As I said , the journey from a domestic home maker for almost 13 years into the fitness industry, with a focus of improving my health due to chickengunya and the regular fatloss journey has brought me here to a professional and a full fledged powerlifter
6. Such a huge change in life, how does it feel ?
This has been a miraculous journey for the last 5-6 years where being an international athlete and a known dietitian catering pan india, getting awards and recognitions was something that I could have never thought of. I'm grateful to God and I think I'm blessed to have started taking fitness as a profession which not only gave me a control of my life in my own hands but also made me the founder of my own brand "NUTRIFYBYPOONAM DIET AND WELLNESS CLINIC' . I have been constantly improving the health of more than 1000 clients in my clinic
7. What interested you towards the field of NUTRITION and DIETICS ?
Nutrition, dietetics go hand in hand. The knowledge of nutrition is a must for every fitness enthusiast.
8. What is the difference between a qualified sports nutritionist and a regular weight loss clinic ?
Theres a world of difference. I saw myself suffering at the health of so called 'weightloss clinics' when I wanted to lose weight for my brother's wedding. The crash diets like juice diets, soup diets will make you lose weight in a short span of time, but most of these will start having problems like joint pain , hair fall, nails breaking and lifeless skin.I have myself suffered at the hands of such clinics.
9. What were the challenges you faced, and how did you overcome and face them ?
Life is all about handling the challenges. I had to under go many mental and physical challenges when I started gymming . Taking the first step there and changing the mindset of people takes an effort. I was dissuaded to take up this course and start a professional life.
I couldn't change their mindset but decided to follow my heart .
10. How did you know that FITNESS was your calling ?
I somehow knew FITNESS AND NUTRITION is where my heart and soul is. When I wanted to start a professional life, I was suggested to start a boutique, a beauty parlour but I chose my passion.and Life has been like a vacation since I started pursuing my fitness and nutrition career. It just doesn't seem like work . I put my heart and soul to people's lives and transform them with all my might and that's where my real happiness comes for me.
11. From a home maker to a nutritionist with your own clinic, was the change easily acceptable ?
From a homemaker to my own clinic , initial phase was quite tough as I had to undergo rigorous training in different fitness and health centres. I had to learn the basics of clinical nutrition , reasons of various therapeutic conditions and the diet therapies to cure them . I learnt under various dietitians . Dietitian Srishti Arora is a big name whom I wanted to give credit to for all her knowledge. It was quite challenging to organize everything from the scratch to office planning, the structured diet planning, the client registrations and the event planning.
Being the sole founder , it all took blood and sweat to reach this platform after so many years of hard work. There is still progress going on with the support of my well wishers , my family and the blessing of God.
12. How did you decide to compete, and that too at the international level ?
After winning many competitions at State level and National Level, I met Jinnie GogiaChugh in 2017, subsequently I also met the powerlifting team in RDX gym , Rohini who had already played in International Championships in 2017, that's when I decided to train hard and compete in International Championship
13. A rare combination of A NUTRITIONIST and a POWERLIFTING ATHLETE. What it takes ?
Being a rare combination of a DIETITIAN AND A POWERLIFTING ATHLETE, it takes a hell lot of time management. As being a founder of a brand takes lot of effort to give quality services to the clients and results with carefully planned structured diet plans with clear instructions on Do's and DONTS , DINING OUT AND DINING IN OPTIONS in different cuisines , REQUIRED SUPPLEMENTATIONS AND ALSO CORRECTING BLOOD PARAMETERS . I carefully plan the diets in 8-9 pages with regular 15 days follow ups after blood test reports, different vital statistics record planning and so on. The diet has to be according to the age group, their current lifestyle , job status , dietary options and their likes .
Along with this, the rigorous training time comes with a good muscle fuel , recovery , rest , sleep and planning the training periodiation of the powerlifting events. Though its not easy, as I am engrossed in teaching also, and have to take care of the ACE-CPT course completion of my different batches as well.
I have to manage all this along with the felicitation ceremonies and events etc.I ensure everything is planned well.And I have to manage my kids also.
MY staff supports me well so I'm blessed to have a good team to work for me.
14. Who inspired you ?
Lot of people in my life inspired me to take up this career seriously. My first super woman in life is Jinnie Gogia Chugh who is so seriously talented. When I first met her, I was starry eyed and I'm not exaggerating to be saying this My mentors Mr Chirag Sethi, Mr Neeraj Chawla and Mr Sanjeev Bhatnagar. Many other people in my life who never failed to acknowledge my hard work and boosted my self confidence when I doubted myself is my very lovely friend MrManavYadav who always had full confidence on me , my very old gym friends who always supported me during training.
15. What motivated you to compete and get into powerlifting ?
Mr Neeraj Chawla kept pushing me to try in Powerlifting once always and my first victory in Delhi state Equipped and unequipped Powerlifting Championship when I won One gold and one silver medals boosted me and made me work harder.
16. Please tell us about your education and professional life ?
I've done my B.ScHons and PG diploma in Nutrition and dietetics . My professional expertise is both in fitness and therapeutic nutrition and sports nutrition. I am an ACE certified fitness professional and also ACE certified sports nutritionist.
17. What are the struggles that you faced, and what kept you going ?
Struggles give us the strength to keep going . It was a lot of physical and mental make up , exceptional will power to take care of so many responsibilities together. House and work need lot of careful planning and time management.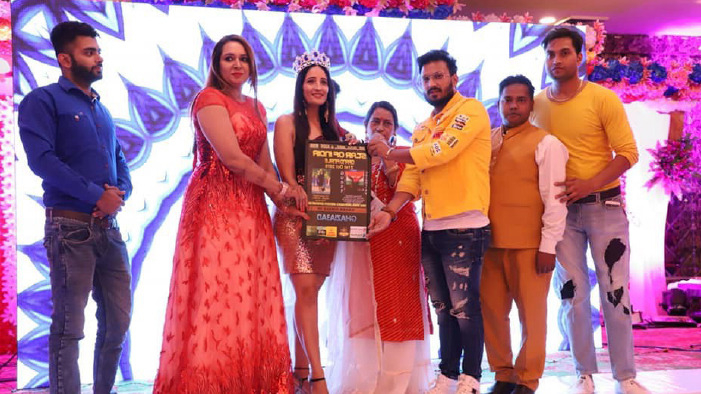 18. Who has been your core strength and support in this journey ?
My core strength has been my mentor MrNeeraj Chawla , MrSanjeevBhatnagar , My well wishers like MrManavYadav and Mr Sandeep Khanna , and my family has been a great support , my husband Mr Anil Duneja , my sons Ayush Duneja and Ryan Duneja .. Specially my mother MrsShobhaPahuja , My brother Ram Pahuja , my sisters Charu Dhingra and kavita Chugh and also my dear Shuchee Pahuja have been my pillars of support.
I would also like to mention my trainers Rohit Sharma and my co trainers like Mr Gaurav Mehta ,MsArti Jain , Ms Neeta , MsManisha Grover , MsItiSehgal .
Everyone has a big role in where Imtoday As a nutritionist in India, I have observed the major issues people are facing lifestyle diseases . Junk food habits and inactivity
19. What all have been your major observations as a nutritionist in India ?
My major clientele are the females of reproductive age. Many of them are working with no time to take care of their bodies, longer sitting hours , no exercise and hormonal imbalances like PCOD / PCOS and even infertility , Thyroid imbalance is also a major issue. Secondly menopausal women with high fat percentage, skewed blood parameters, arthritis, joint pains and high blood pressure. Men have major heart issues, high BP and high blood cholesterol levels and also hairfall.
20. What is the role of NUTRITION in the maintaining the general health and well being of a person ?
Nutrition is the backbone of a healthy body as it lays the foundation of hormonal balance , lean body mass, stamina and bone and joint health. Mood swings and mental health highly rely on the nutritional status of the body.
21. How do changes in diet and suggested remedies help in fighting the diseases and ailments ?
Change in diet can completely transform the human body, Be it any lifestyle disease like diabetes, High BP or hormonal imbalances. Body responds positively by incorporating heathy balanced diet by including more green vegetables, complex carbs and nutrient dense foods instead of high processed sugars laden junk food and cold drinks. Addition of 45 -60 min of exercise further train body to utilize glucose effieciently as fuel and storing it as fat.
22. Can issues like PCOS, PCOD, that are common in todays young girls be treated with the right food, and how is this related to food ?
PCOS / PCOD is directly related to high stress conditions , late night hours , absence of physical inactivity and junk food culture . All these create an environment to put a havoc on an already delicate hormonal balance so cases of irregular or missed periods , infertility, excess facial hair(hirusitism) Change in diet creates a positive impact on hormonal balance by removing the triggers
23. What are the other common issues that can be treated with nutrition ?
Major lifestyle diseases like different types of kidney and liver issues , heart issues and stomach issues can also be treated with diet therapy
24. What is the role of Nutrition in dealing with THYROID, another common ailment amongst women ?
We supply all the food items which manage thyroid hormones. If the micronutrients that constitute the thyroid hormones are absent , thyroid hormones either go up or down creating symptoms of low stamina, high fatigue which can also later convert to diabetes and PCOS/PCOD
25. How can you address the issue of ARTHRITIS with the right nutrition ?
There are special foods to incorporate specially meant for bone and joint health. If one has arthritis , we suggest and educate them about the various options to increase the lean mass and also reduce the inflammation . All this is done after special blood tests for arthritis screening . In the case of major deficiencies, we suggest them the required joint health supplementation
26. Who have been instrumental in this tedious yet rewarding journey of yours ?
My fitness routine has been designed by MrNeeraj Chawla and SanjeevBhatnagarsir , It was a full 2 year training for the international event . Lots of long rigorous training , lot of carefull periodization , structured workouts of varying intensities , different progressions and target goals. Good muscle building diet and careful recovery periods was a must for the preparation of this highly recognized international event which was a dream come true for me after long periods of hard work and I'm grateful to the almighty.
27. How was your experience of competing in Canada ?
Competing in Canada was quite tough as the standard rules are of international standards. They are quite strict in nature , the judgement is quite fair and competition is tough in every category.
28. Please tell us about your family, your children ?
I live with my husband who is a business man and owns a factory and shops . My elder son Ayush is studying in college and joined the cabin crew course and my younger son Ryan is in 9th grade .
29. Your message to the readers of FITNESS GURU ?
My message to the readers is that always follow the heart and soul, ignore the outside noises and focus on the goal . If the goal is difficult , change the route but not the goal.
30. Your future plans ?
My future plans will be serve more varied clientele in future by giving them quality services and also keep improving my PRs and achieve gold medal next time in future international events.
ACKNOWLEDEGEMENTS
1) Mr Neeraj Chawla
2) Mrsanjeev Bhatnagar
3) Mr Rohit Sharma
4) Mr Manav Yadav
5) Mr Chirag Sethi
6) Mrs Shiba Mehra
7) Mr Animesh Chauhan
8) Mr Prateek
9) Mr Pravir
10) Mr Anil Duneja
11) Ayush Duneja
12) Gargi Chopra
13) Ryan Duneja
14) Mr Ram Pahuja
15) Mrs Shobha Pahuja
16) Mrs Charupahuja
17) Mrs Kavita Chugh
18) Mrs Shuchi Pahuja
My loaders
Manish, Ashu, Ravi, Ajay and Abdul
Seminars and workshops
1)
Seminar on women health and wellness
2)
Diet therapy and exercise management on high cholesterol and heart issues of senior citizen
3)
Diet and exercise management on arthritis
4)
Effect of yoga on back health and nutrition therapies for diabetes
5)
Effect of junk food on school kids
6)
Workshop on skin , bones and nail health
7)
Corporate seminar on diet management for working people
Guest diet and fitness expert in the mentioned TV programs
1) "The Good Health Show " on Disha tv channel
2) " Tea with health expert" on India Tv news channel
3) " Solutions Ahead" on India Ahead News Tv
4) "Meri pehchaan" on Disha TV
5) " Signature by Bindu Kapoor" on Disha Tv
Poonam Duneja
(Founder of Nutrifybypoonam Diet And Wellness Clinic)
(ACE certified sports nutritionist)
(Women of the Future Awards-2018)
(FEA - Excellent Nutritionist Award winner)
(Volini Maxx sponsored Sports Nutrition Expert in Airtel Delhi Half Marathon-2018)
(Nutritionist in RDX chain of gyms)
(Senior Faculty in Fit India Trust , Delhi and Noida academies)
(Nutrition consultant in Foreverfit.com
(Former Faculty in Classic Fitness Academy)
(Columnist in India's leading Fitness Guru Magazine)
(Columnist in The Times of India)
(National benchpress gold and silver medalist)
(Strong woman trophy winner)
SOCIAL LINK
Facebook
https://www.facebook.com/poonam.duneja
https://www.facebook.com/nutrifitsolution/
https://www.foreverfit.in/meet-this-powerlifter-who-wears-multiple-hats-in-fitness/
Instagram : https://www.instagram.com › nutrifybypoonam ›
Linked In : https://in.linkedin.com/in/poonam-duneja-873241134
Youtube : https://youtu.be/LMjLSMwg
Awards and Recognitions
Zindagi Dilli Ratan Award winner-2019
Pride of the society hero award winner-2019
PharmaRatan Universe Award-2019
Social Activist Award winner-2019
(Women of the Future Awards-2018)
(FEA - Excellent Nutritionist Award winner)
Celebrity guest in Mr, Miss , Mrs and kids star of the year 2019
Jury member in Mr, Miss and MrsDillikiShaan 2019
(Volini Maxx sponsored Sports Nutrition Expert in Airtel Delhi Half Marathon-2018)
(Nutritionist in RDX chain of gyms)
(Senior Faculty in Fit India Trust , Delhi and Noida academies)
(Nutrition consultant in www.foreverfit.com
Nutrition consultant in www.bodyandstrength.com
(Former Faculty in Classic Fitness Academy)
(Columnist in India's leading Fitness Guru Magazine)
(Columnist in The Times of India)
(International Athlete)