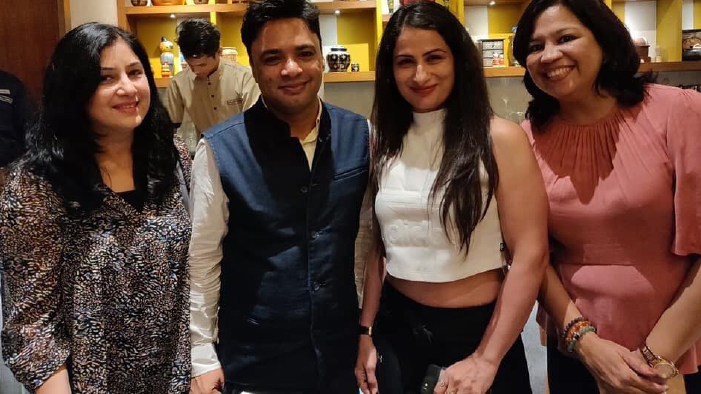 The panel discussed under the topic "Discover goodness of nutrition the right way!!"
The Panel had eminent personalities from world of Food, Fitness and Nutrition.
Eminent Panelists included Ms Sonia Bajaj, Leading Fitness Expert and Nutritionist , Chef Nishant Choubey, Leading Chef and Consulting Chef for the Michelin Plated Restaurant, Indus, Bangkok and Ms Jinnie Gogia Chugh, International Athlete and Fitness Writer and Entrepreneur.
The Panel was moderated by Anshuman Sood, Founder of Home Chef Association of India (HCAI).
The event was attended by leading Chefs of the country, Food Bloggers, Home Chefs and Foodies.
The discussions were very relevant to all and how to live a healthy life in todays fast paced life.
Chef Nishant Choubey, shared the importance of having local foods which are readily available and which are fresh and full of nutrition. He also suggested ways how we can make nutritious food for children and make it more fun for them.
Nutritionist Sonia Bajaj said that we should give rest to our digestive system in the whole day and for some periods not have anything. Also have everything in moderation and not to stop any one food and have only other. This would then lead to more imbalance in the body.
Fitness Expert Jinnie Gogia Chugh explained the importance of exercise to remain fit and healthy. She also said that parents become example for the kids at home and the kids habbits are formed by what they see their parents doing. We must lead active lives with moderate exercise and make it fun. She also emphasised that we must spend some time outdoors in the sun and work out in parks if possible in natural environments.
Mr. Anshuman Sood shared his experiences of Inteminnent Fasting and also importance of having whole spices in the food we cook. They have essential minerals and are easily absorbed by the body in the natural form.
The talks ended with high tea by the Restaurant and a goodie bag by the gifting partners Le Creuset, Nourish Organics, Chef Urbano and Brewhouse Ice Tea.